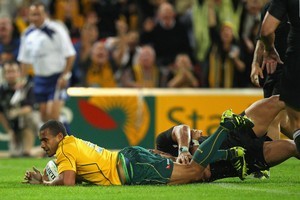 Once more the Sultan of Suncorp spun his magic.
Bashed and cut by his Wallaby teammates in training accidents during the week, halfback Will Genia returned to the international stage with the venom he threatened.
This guy is the hinge to the Wallaby success. If he is sharp, his rhythm flows to Quade Cooper and others as it did on Saturday when the Wallabies claimed the Tri-Nations title with a 25-20 victory against the All Blacks.
When asked before the test about the split head and dizzy spells he suffered at practice, Genia just smiled with a few telling words.
He would be all right, he promised.
On the night, he was more than just "all right". Early on he darted and scored after lengthy phaseplay from the strong Wallaby pack.
Then, when the All Blacks eased up to 20-all with the last quarter to run and the Wallabies in freefall, Genia struck once more.
He threaded his way past a tiring defence line, poked a pass to the trailing Digby Ioane who sent Kurtley Beale to the line and the Wallabies' first Tri-Nations triumph in a decade.
Great players find ways to break open tight tussles and Genia is heading towards that acclaim on a regular basis.
He is sharper than Fourie du Preez at the moment although the Springbok is coming back from injury.
Those two are probably the best halfbacks in the top company but others may sneak up there at the approaching World Cup. Right now, Genia brings that bite and magic from the hub of the Wallabies; he carries a full kick, run and pass arsenal and the timing that all greats possess.
The greater the battle the more Genia thrives. Competition is his oxygen and, just as he did for the Reds in the Super 15 final at the same venue against the Crusaders, he sealed the test.
The Wallabies have a history of world-class halfbacks guiding them to World Cup glory; Nick Farr-Jones did in 1991 and George Gregan did in 1999.
After finally busting out from a decade of Tri-Nations failures on Saturday in Brisbane, they will feel Genia and his crew have signalled the pathway to creating a third global triumph.
Fair enough. However, the Wallabies have won only three of 14 tests with the All Blacks since Robbie Deans and Graham Henry started their international duels.
Deans' supporters will point out it is two from the last three tests; detractors will point out the Wallabies' inability to win in New Zealand while plucking games in Sydney, Hong Kong and Brisbane.
Take your pick on those theories, but one thing you know is that the Wallabies have just raised the World Cup intrigue several notches.