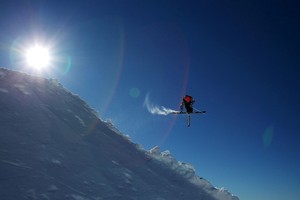 Silence is the striking feature of what in snow sports is known as "the big air". Snowboard or ski competitors slither down a slope of about 150m, rattle up a brief rise and then ... nothing.
Nature's mute button is pushed as athletes silently take off, twist and coil into moves such as the "backside double cork 1080 and 1260 mute grab" or "cab 900 melon and frontside 900 tail grab" producing what are known in the trade as "sick jumps", into a vista extending to the Southern Alps and beyond.
Jumps last around four seconds; long enough to engage the crowd at Winter Games New Zealand (WGNZ) last week at Cardrona.
Not only does it take courage but it is also a calculation of speed, wind and distance to ensure each take-off is not your last.
That's what makes the big air compelling. It defies what the general population - or even the general snow sport population - considers sane.
The fearlessness of youth plays a part, too. The majority of entrants' birthdates start in the 1990s.
It is not an Olympic sport, although its jumping component forms part of slopestyle, a sport whose freeski and snowboarding arms are the latest additions to the Winter Olympics programme. Slopestyle features other obstacles such as straight or arched rails and boxes or platforms to give it more complexity.
The addition of such new sports give New Zealand a better chance of a medal at Russia's Sochi Olympics in two-and-a-half years.
Jossi Wells is the leading Kiwi contender as a former X-Games silver medallist and overall world champion last year across the freeski disciplines of slopestyle, big air and halfpipe (another Olympic addition).
He took two silvers and a bronze during WGNZ despite recovering from an elbow injury. The 21-year-old's achievements could also be challenged over time by his talented brothers Byron (19), Beau-James (15) and Jackson (13).
WGNZ chief executive Arthur Klap says New Zealand can seize the moment ahead of Sochi: "It's too late for some European countries like Norway to start pouring money into those new sports. Until they change their thinking and strategy, New Zealand has a definite shot at 2014.
"We are a minnow," Klap says. "But people like Jossi are having an influence internationally that exceeds our size. I'd wager Jossi is far more known in the US than Richie McCaw."
Kiwi Ste'en Webster was a snowboarding big air judge on Wednesday. He was a pioneer boarder in 1988, eventually becoming national champion and riding professionally. The 46-year-old has now judged the sport for 12 years.
"Kids now are doing things I wouldn't dream of. Progress is so fast. There was a lack of quality judging in the early days. It is difficult to keep up with ongoing changes to tricks but the same judging skills still apply. If you break down the trick's mechanics in your mind's eye, it becomes a lot simpler.
"It is ground-breaking for slopestyle to be included in the Olympics - it is like watching a video game but real people are involved."
Webster says a recent trend in nations (such as China) has been to put skis on former divers and gymnasts to aim for a share of the medals in freeski events. The Chinese won a silver and two bronze medals in the aerial skiing (with skis but no poles) at Vancouver 2010.
"It's a valid prospect," Webster says. "The main differences are learning the basics of turning and landing on a snowboard [or skis]. Otherwise the mechanics of the tricks are already familiar.
"The key difference that can halt progress is when snow conditions become difficult. That's when being an expert with years of experience pays dividends."