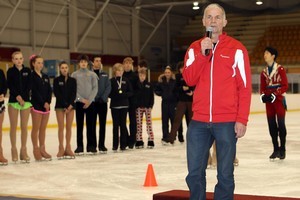 New Zealand will never host a Winter Olympics but expanded plans are in the offing for the biennial Winter Games New Zealand (WGNZ) programme.
That's according to the event's chief executive Arthur Klap, who has overseen the most recent event over the past 17 days across seven venues in Otago and Canterbury.
Klap managed a hosting budget of $4 million to bring out some of the world's best winter sports athletes - many lured by the prospect of competition during the Northern Hemisphere summer.
Klap is an expert on such matters. Not including the two versions of WGNZ, Klap says he has run 17 world championships or world cups in New Zealand involving sports as diverse as triathlon, water skiing and unicycling.
He says they've tried to remain true to the plans of Queenstown-based former New Zealand Olympic Committee president Sir Eion Edgar and former NZOC secretary-general Barry Maister, which led to the first WGNZ in 2009.
"A Winter Olympics bid is out of the question," Klap says. "We haven't got the infrastructure, the skifields, the beds or the proximity between venues. The plus is we have quality snow when the rest of the world wants it. Yes, there are hundreds of fields better than ours ... but not at this time of year.
"What Sir Eion and Barry wanted was an event where we own everything so we can control how it is shaped and what sports are involved. In other events I've run, the income from sponsor-ship and television revenue goes back to the international body. The proceeds from this event go back into the local community.
"We have also got adaptive and able-bodied athletes competing on the same day - there aren't many places in the world where that happens."
A budget of $4 million might sound a lot but it has to cater for hundreds of competitors and support staff, building infrastructure, employing people and organising the apres-ski festival programme. $1.1 million comes from the Government in the form of grants from New Zealand Major Events ($750,000), Sparc ($250,000) and Tourism New Zealand ($100,000).
Klap will not know immediately but says the balance sheet is fluctuating between making a $20,000 profit or loss.
He says the long-term objective is self-sufficiency: "We're making progress. At the inaugural event two years ago, we had a $3.2 million budget to work with but only 11 per cent of it was commercial. Everything else was earned through the likes of local and central government grants.
"It's worth it because the exposure is intangible. The estimated economic impact last time was $40 million-50 million. In 2011, 26 per cent of our budget is commercial and, in six years, the projections are for that figure to be 90 per cent. Then the event will have the ability to operate on its own.
"That's the appeal, developing a legacy event, because we don't really have them."
Klap has plans three weeks after WGNZ to start expanding for the 2013 event.
"I'm off to Korea. They have skills we need in ice development, looking at their outstanding speed skating programme.
"If they can support us [for the likes of hockey, skating and curling], we can support their snow programme and share resources such as halfpipe-cutting technology in the lead-up to their 2018 Winter Olympics [in Pyeongchang]. The Korean delegation has also been here observing.
"That's another objective to what we're doing. It's fine consulting with organisers of other big events like the Winter Olympics and influencing the development of snow sport but we want to actually be building the facilities for them."