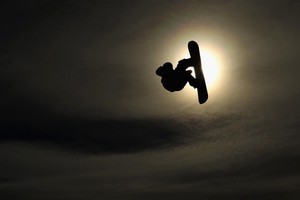 The Winter Games NZ will finish in style tomorrow with one of the signature events attracting the strongest snowboarding halfpipe field seen in this country.
The Snowboard FIS World Cup Halfpipe reads like a who's who of snowboarding as the world's top riders vie for FIS points as well as the prestige of gaining a podium finish at the first FIS World Cup event of the 2011-12 season.
Leading the men's and women's fields are current world number ones Nathan Johnstone (Australia) and Cai Xuetong (China). Being the number one in the world in Snowboard Halfpipe comes with its own unique pressure but that is something the Aussie is accustomed to.
"There is always pressure to perform, no matter what titles you have won," said the 20-year-old.
"That's just something that comes along with competitive sport and the day you stop feeling pressure in your sport is when you have lost the love and the drive to push yourself."
Johnstone will face the top six ranked halfpipe riders: Ryo Aono (Japan) who is ranked number one on TTR, Iouri Podladtchikov (Switzerland), Yiewei Zhang (China), Taku Hiraoka (Japan) and Tore-V Holvik (Norway).
The Aussie, who made his international debut in FIS halfpipe in 2006 as a 15-year-old, said the Winter Games on the highly rated Queenstown and Lake Wanaka slopes are critical to his continued improvement.
"They are great, I love coming out here every year to train in the Southern Hemisphere season," said Johnstone.
"Cardrona and Snow Park offer world-class pipes for us to train in and there is always plenty of competition around so you're always pushing yourself to ride better."
Johnstone has plenty to prove in a few years' time at the Sochi Olympics in Russia (2014) but he is not getting ahead of himself.
His Vancouver 2010 dreams were shattered a month before the Games by a training injury in the United States.
Australia's leading male halfpipe rider suffered a mishap during a routine halfpipe drill at a training camp in Gaylord, Michigan, breaking one ankle and twisting the other.
The AIS rider, then 19, had finished the 2008-09 season ranked number two on the FIS World Cup snowboard rankings after contesting just nine events on the circuit.
His focus is on developing in every event between now and 2014.
"Every competition we do between now and then is important, for confidence and experience," said Johnstone.
"The Winter Games are important to me because I consider it like a home event.
"I spent a lot of time here during the Southern Hemisphere season so to do well here means a lot to me personally."
Australia has had a great showing in the Winter Games. Another World No 1 from across the ditch, Alex Pullin, showed his quality by comfortably winning the Snowboard Cross title and his female equivalent Belle Brockhof claimed gold in the women's competition.
"I always enjoy dropping in to see the neighbours," said Pullin, 23.
"I spend a part of my time in every southern winter here, mostly based in Wanaka, riding Snow Park, Cardrona and Treble Cone.
"Like anywhere around the world, conditions are up and down, but for the most part I get a lot out of riding the steeper terrain in the backcountry, parks and pipes."
Pullin, who had the fastest qualifying time at the Vancouver Olympics but was eliminated in the first round of competition, finishing in 17th place, has unfinished business at the snow sport showpiece.
"The Winter Games provide a good event in a perfect time slot for me to set up for the next northern winter of competition," he said.
"For testing new product, which is aimed at benefiting my performance at the Olympics in Russia, it sets up a perfect testing facility with a course which is as close as we get to the real thing in the Southern Hemisphere.
"Along with that, it keeps me in the groove of competing often as well as being able to enjoy doing what I love, close to home."
Pullin said rookie snowboarders keen to improve should simply "ride on".
Johnstone said: "Keep at it and don't give up when times get tough."