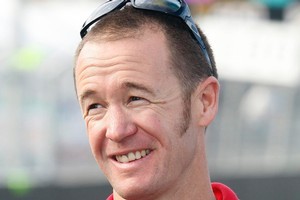 New Zealand's most recognised V8 Supercar driver Greg Murphy has had his ups and downs over recent seasons. The four-time Bathurst winner has been frustrated with some of his decision-making in regards to team choices of late but may be about to hit his straps again.
Since getting involved with Kelly Racing this season, Murphy has made steady progress in the championship, despite his protestations about not doing as well as he wants.
He had his best results for a long time in the last round of V8 Supercars series at the Coates Hire Ipswich 300 in Queensland. He finished a season-high sixth and seventh in Saturday's two sprint races and continued his good form on Sunday, nabbing a 13th in the longer race.
Most fans of Murphy will be rubbing their hands together in anticipation of the endurance rounds at Phillip Island, September 16-18, and Bathurst, October 6-9. The Kiwi driver has an incredible pedigree, not only in V8 racing, but also when it comes to the long-distance events.
The prospects are looking good for him and his crew in the run in to the end of the season.
Murphy has, by his own admission, been on a steep learning curve this year.
He's realised racing these days is not about getting the car to do what you want it to do, but rather adapting to the car and getting the best out of yourself to get the machine to go faster.
"You always try and work out why certain things happen, why they take so long and why you struggle here and there and is it the car or something else," said Murphy, during a quick trip back to New Zealand.
"In the last couple of months of working with the Kelly guys, the science of driving the cars has become more important. It's now about making the connection between the driver and the car.
"It's more about the way the car needs to be driven rather than how the driver wants to drive the car."
Whatever the sport, things must change to get an advantage.
Performance-enhancing drugs aside, it's either about getting the best out of the human body or getting the best out of the equipment.
At the pointy end of equipment performance sits motor racing. A race car is the most complicated piece of kit you can possibly use. As with all sports equipment, the gear is getting more sophisticated and precise, so users are having to adapt to the tool. Especially when sitting inside hundreds of thousands of dollars of go-fast gear.
"The design and science of cars are a certain way now and drivers have to adapt to things more as to how the car needs to be driven and get the performance out of it," Murphy says.
"Lowndes and Whincup have been at Triple Eight for so long now they have an understanding of how it works.
"We're now focusing on stuff like that at Kelly Racing and I'm really working at it hard because it's not natural but it makes a difference."
In the past few years, Murphy hasn't been exposed to this sort of science when it comes to racing cars and is happy to embrace this new approach. It might take a bit of time but the results are already starting to show.
"Things are starting to take some shape and we're starting to improve and things are looking a bit better. We're focusing on a few of these areas key to performance and becoming more competitive," said Murphy.
In Kelly Racing, Murphy seems to have arrived at a home where he's comfortable and happy to learn new things. He has never been short of drive and the determination to do well, so look for continuing improvement.