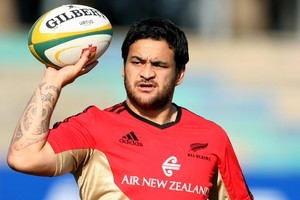 The kilos have come off, the spare tyre has deflated and certainly some centimetres have evaporated from the posterior.
It's been a tough haul for Piri Weepu, who was getting back into real trim late last year then snapped his ankle. Surgery and the convalescence bit into his fitness and frame.
Once his bones had recovered, Weepu had to get his head around finding the balance between intake and output if he wanted to make the World Cup squad.
He had all the skills the selectors wanted and more, he "saw" the game better than most in the squad and that's what they wanted. But they also needed the fit-version Weepu to help deliver those abilities.
This was a huge demand for Weepu, who prevaricated about signing on after missing the last World Cup, when his and others' indiscipline cost them their places.
He was "a bit gutted" about that rejection and took some time to get back into focus.
At first, he ignored offers to talk with the All Black selectors, but slowly came back to the sport.
Was he up to an even bigger inquest this time? It seems so, and even since his July return to the All Black squad he has kept carving that weight back and trimming down the torso.
There was further reward this week with selection to start against the Wallabies tonight in a selection which is close to the top All Black XV.
Coach Graham Henry was coy in his assessments, but noted Weepu's form and that of reserve Andy Ellis who he thought were both probably best used from the bench.
But the coach said tonight would be a chance for Weepu to get his game going once more and to show the vision the selectors valued so much. It had not been planned, said Henry, and was a bit of a hunch.
"He has got an opportunity to prove that again, hasn't he?" Henry said in response to being asked whether Weepu was their top pick.
"I think Piri's ability to see the situation and react accordingly helps, he sees things well, he reads things well and hopefully makes the most of those situations," Henry added.
"Like he created a couple of opportunities early in the Australian test in Auckland, one which we finished scoring from. He has that ability to create."
Weepu shrugged off his status as the substitute halfback weapon against the Wallabies, but he liked the challenge of meeting Will Genia and his bag of tricks.
"I have done a lot of homework on Will over the years and know what he is capable of."
Playing the Wallabies was all about having a clear mind, being sure about his own roles and working hard to shut down the multi-level threats from his rival halfback.
The trick was to shut down his running chances to restrict him to kicking and distribution.
Weepu had no doubt tonight's test would be as fast as the earlier match at Eden Park. Both sides would be amped to produce a better performance on the eve of their World Cup work.
He felt fitter than he was for the first match but the longhaul travel to Africa and back would also have bitten into that improvement.
Gym work and extra fitness sessions had been on his daily menu rather than the food he liked to eat.
He had surprised himself and the trainers had helped him with the variety in their demands, he said.
Tonight was another chapter in that progress and the entire determination of the All Blacks.