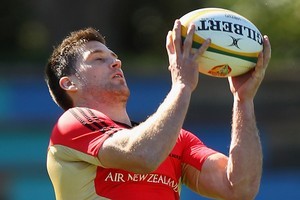 Clearly the All Black selectors have gone with a hunch in picking Cory Jane for the World Cup.
His Super 15 work was modest, he was a standby squad choice but played sharply when called to start the Cake Tin test against the Springboks.
Henry, Hansen and Smith went with their gut instincts when they picked him in their talent-rich fullback-wing reservoir.
It is a shame they did not make a similar decision with Hosea Gear. The specialist left wing ran hot on tour last year and is only getting back into his game after hamstring troubles.
At full noise no one combines his size, power, pace and nose for the tryline. Two more weeks, a few more games and he would be sizzling.
Instead he has lost out to Zac Guildford, the Hawkes Bay speedster who is also a specialist wing and has had a strong season. Guildford's play has been broader but I still feel in the heat of sudden-death tests, his impact may be limited.
His greatest asset is his speed but chances to use that commodity in test rugby are usually shut down by the better defences, the deeper you go in tournaments like the World Cup.
He may not get much work anyway, depending on the fitness and form of the others in the fullback-wing group and the utility value of Richard Kahui.
All plaudits to Guildford for persuading the panel he was the best choice and can join his buddy Israel Dagg in the World Cup.
The 22-year-old spoke with passion when he said he was stoked to make the squad because "there were some bloody good players who missed out".
Backs coach Wayne Smith felt the wing ticked the boxes of security under the high ball, he had a top chase game, high workrate on both sides of the field and coped well with pressure. He had shown his character by fighting hard for his place.
Agreed. And the selectors will know more. Guildford had some social issues which needed attention and he must have dealt with those as well.
Meanwhile, the Gear family will ponder their World Cup fortune after Hosea's elder brother Rico suffered a similar fate before the last tournament.
We can talk through issues like these but all the debate is about the last few picks in the side.
Most places have been ordained all season - the All Black selectors knew the men they wanted, they just had to add the final few.