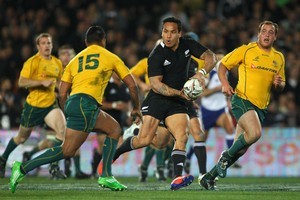 Of the unlucky men to be cast overboard on the journey to the World Cup, no one will be feeling the pain of rejection more than Hosea Gear.
His omission is the hardest with which to agree. The other two from the original Tri Nations 30 to miss out - Liam Messam and Jarrad Hoeata - don't have such strong claims on misery.
Messam, for all his wonderful skills and endeavour, never really took the chances he had. He was a little rusty against Fiji, shadow-like in his cameo off the bench in Wellington and quiet again in Port Elizabeth.
Vito has been full of energy all year, hungry and committed. He's a bigger man, quicker and potentially a long term test prospect in a way Messam isn't.
Hoeata was only ever in the squad as cover for the more experienced Anthony Boric and kind of knew his fate in advance.
But Gear's exclusion will be something that could niggle as the tournament develops. The back three has been picked predominantly with the likely conditions of September and October in mind. Late kick-offs in notoriously volatile weather periods are going to create platforms for kick and chase football.
The South Africans, who loom as the All Blacks likely semi-final opponents, are not hiding the fact they are going to grunt and grind and then get Morne Steyn to kick the skin off the ball.
The All Blacks need a back three that can cope with the high ball and then launch counter attacks that punish the Boks for conceding possession. Cory Jane and Isaia Toeava are regular fullbacks and excellent operators in that regard, as is Israel Dagg who can play on the wing if required.
With those skills deemed a priority, the final choice came down to Zac Guildford or Gear. The former has reinvented himself this year. His straight line pace is impressive and the selectors like his work-rate and his availability for taking the inside pass from the midfield.
But as an out and out specialist wing, Gear has just as much if not more appeal. He's a bigger athlete, more powerful in the carry and while he's possibly not quite as quick, his ability to beat players one on one is better.
What also appeals about Gear is his ability to crash through the midfield and set up a target. The All Blacks played off his strength on the November tour last year and the argument could be made that with four men in the mix who can all play fullback, there was opportunity for a point of difference in the fifth selection.
Gear is a bigger point of difference than Guildford, who for all his work rate and continuity skills, will not scare opposition defences the same way as Gear.
The game, even in wet weather and crippled by the tension of the occasion, invariably comes down to half chances being converted. Gear is a converter - one-one-one he can just about be unstoppable and no one in world rugby would be full of joy at the prospect of having to mark him.
But he's not going to be at the World Cup and now he'll need to decide whether he should sign a contract to stay in New Zealand or look about for an offshore challenge to help him digest the hurt of missing out.
He shouldn't rush in. As Ma'a Nonu and Piri Weepu can both testify, missing a World Cup squad needn't be the end. They both missed out in 2007 and have won redemption this time.
Shifting to the Highlanders may be the best way to respond - to give himself a new challenge but keep his All Black options alive. He's too good a player to believe that this is the end.