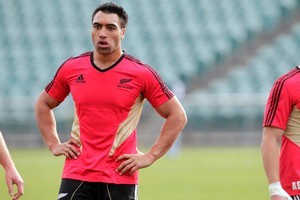 Victor Vito has made a stunning return to the All Blacks fold at just the right time after he was included in the world cup squad at the expense of Liam Messam.
It represents the closing of a painful chapter for Vito. Almost 12 months ago his defensive scrum blunder in Sydney allowed Wallabies wing James O'Connor to score a try, a lapse that put the loose forward on the outer until last week when he travelled with the All Blacks to Port Elizabeth and replaced Messam late in the second half of the side's 18-5 defeat by the Springboks.
What a turnaround. While Messam was cutting a solitary figure as he made his way out of Auckland Airport last night following his exit from the All Blacks squad, Vito was quietly celebrating his good fortune.
After the squad announcement in Brisbane today, Vito said: "It's still sinking in a little bit. I only just started getting excited about it this morning, really. It's been pretty surreal to go from ITM Cup to a test call-up and now this has been a pretty crazy week. I'm just really happy.
"I never gave up hope. The coaches always said you can play your way in. You can take that two ways as a player. You can put your head down and say, 'oh, they're just saying that'. Luckily I went away and believed what they said and worked on a few things and it came to fruition. To get that first call-up to join the squad was a dream come true and it's pretty surreal to be here now.''
Although Vito played only 11 minutes against the Springboks in the weekend, No 8 Pierre Spies got the better of Messam and a loss is never ideal on your CV before something like a world cup squad naming.
Following the team announcement today, coach Graham Henry said: "It was a form thing in the finish. It's just that Victor's played very well throughout the year. He was close to selection in the original Tri Nations squad. He has played very well for Wellington in the ITM Cup. He provides a lineout option and Liam didn't quite tick all the boxes in the last test.''
Messam was one of the Chiefs' best players this season. Despite a pack that struggled in the tight stuff, Messam was almost guaranteed to make metres with the ball but the lineout reference from Henry is an important one because Messam lacks height compared with Vito.
Although both players' strengths are in the ball-carrying area, Henry, Steve Hansen and Wayne Smith are fans of adaptable, resourceful players and in the end Messam didn't quite have enough in his kit bag.
- APNZ