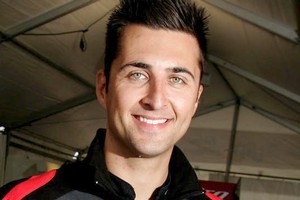 While yesterday was disappointing, it has been great to be back behind the wheel this weekend at the Ipswich 300. Though it has only been six weeks since our last race it seems like an eternity and can be a little hard to stay motivated.
The boys in the workshop have been busy - all three cars in the team have been stripped back and some new parts put in as we gear up for the second half of the season.
Most of my time during the hiatus has been spent doing driver training, which is always a challenging experience and something I enjoy. While it is not quite like being in a race, the process of being in a car keeps you focussed. I work with a range of abilities - from car dealers to potential drivers to the general public.
Everyone has different skills and abilities, but I always find there are some things that most drivers have in common. At lot of people like to shuffle their hands on the steering wheel but to me that is a big no-no. Most people are taught the '10-2 grip' (from the clock face) but I think the '9-3' is even better.
If your hands are straight then the car is going to stay straight.
The other crucial aspect, whether you are on the road or on the track, is to get into the habit of looking as far forward as you can, and trying to think one or two steps ahead. It is what we have to do as drivers - when we come out of a corner at 200km/h we can't afford to be thinking 'Right, what do I do now'.
Looking at this weekend, the circuit at the Queensland Raceway in Ipswich is a unique track. It is sometimes known as 'the paperclip' due to the six turn design and lack of elevation. Despite the simple layout, there are usually plenty of passing opportunities. It is a very bumpy track, which makes it quite demanding and often changing temperatures over the course of a day affect the tyre grip levels dramatically.
Yesterday's new format - with two 22-lap (120km) sprint races and just a 15 minute 'work break' in-between was a real challenge - although we expected to do a lot better. On your break there was just enough time to eat and go to the bathroom, while we knew that any damage incurred in the first race would have to be carried over to the second, as there was not the usual between race time that we have for repairs. It turned into a bit of a pyschological battle, as everybody was aware that it was important to look after the car.
Still, it made for a good spectacle and it was an interesting experiment. Today we are back to normality with a longer 65-lap (200km) race. Across the weekend we are racing on soft tyres - which usually suits our team and hopefully we can improve on our performance today.