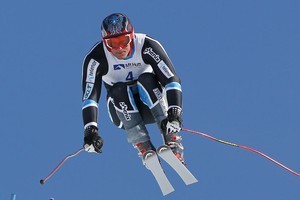 New Zealanders may only get a fleeting glimpse of an Olympic champion skier on the slopes this winter. Norwegian Aksel Lund Svindal is unlikely to compete at the Winter Games New Zealand (WGNZ) event being held across the South Island, despite promotional material to the contrary.
The Vancouver Winter Olympics 2010 Super G gold medallist entered this week's alpine skiing races but has opted out, preferring to stick rigidly to the Norwegian ski team's off-season training programme in this country. It came as a surprise and a disappointment to WGNZ chief executive Arthur Klap who had hoped to see him in action.
Svindal says it is a misunderstanding: "We only have a certain amount of time here [three weeks in New Zealand] and limited resources so we have to make the most of the snow base. Unfortunately with our summer programme, the more skiing practice I get now, the better I will be for the start of the European season."
The mix-up was highlighted by a statement from Klap in the build-up: "To get such a high calibre entry from Norway shows just how high the level of competition is going to be.
Also, what better way than having an Olympic gold medallist racing at Mt Hutt to show the world that the majority of Canterbury is business as usual, despite the earthquakes."
The giant slalom will be raced tomorrow on Coronet Peak with the slalom to follow at that venue on Wednesday. The Super G will be held on Saturday at Mt Hutt.
Men's team manager Havard Tjorhom says a number of other Norwegian skiers are entered and could still race, depending on their training programmes.
"The main goal is training but if we can fit in the races around that, we will."
The Norwegian team is based in the Queenstown Lakes Districts for three weeks before heading to Chile.
Tjorhom says the region makes a perfect off-season base: "It's a lot of travel down here but it's worth it to train on good winter snow. You see plenty of international teams do the same; the only other option is up in the glaciers of Europe over summer but the altitude is higher. You can fit in more runs at lower altitude and athletes are less exhausted."
Svindal (28), who also won silver in the downhill and bronze in the giant slalom at Vancouver, is a devoted fan of the Queenstown Lakes District slopes. "I've been coming here at least the last five years. I like it because it's similar to Norway, a natural environment and not too crowded."
Norway have earned the most Winter Olympic medals of any nation (301) and the most gold (107).