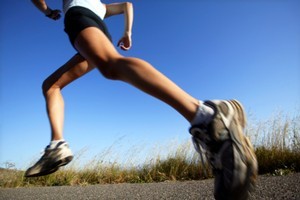 It has been more than 30 years since the last marathon on Auckland's North Shore and next week the wait will be finally over.
From 1965-78, there was a marathon event organised by Calliope Harrier Club called the Calliope Reidbuilt Homes Marathon which used to begin on Wairau Rd and go around Lake Pupuke six times.
The event then moved to Whenuapai and was contested until 1981, when it petered out through lack of sponsorship.
Fast forward to 2011 and more than 2000 athletes will make history on the first official North Shore Marathon course, along the coast between Takapuna and Devonport.
For event organiser Dion Jelley, a former elite runner who attended a number of World Duathlon Championships with a best placing of 12th in the 25-29 age group at the 2005 World Champs, the event has been a long time in the making.
"It's a dream come true for myself to see this materialise," said the 30-year-old Jelley, a former Northcote College student, a school which has produced top runners like Geoff Shaw, Grant Beech, Jared Letica and, more recently, Edwin Henshaw
"I am very humbled and proud to be able to achieve this. I am pretty much a one-man operation so it also means a very big challenge, especially being a first-time event.
"We expect 2000 runners, making it one of the biggest first-year marathon events ever and I would love to see it grow to one of the biggest marathon events in the world one day. It is a great course and a great location. It's a Shore thing."
One of the aspects that pleased Jelley most was that the event had attracted runners of all abilities in its inaugural year.
"Forty per cent are first-time participants in a marathon or half marathon so we are really hitting the market we were targeting," he said.
At the elite end, national 10,000m champion Stephen Lett is looking to set a blistering pace in the half.
Meanwhile, Scott McGregor, who completed his first Ironman this year, is aiming to run the marathon in 3 hours 10minutes-3 hours 20 minutes.
He will celebrate his 30th birthday by running in a kilt.
"In acknowledgement of the Scottish connection I did the Dunedin half marathon in my kilt some years back, so I know I need to have a pair of 'emergency undies' and some barley sugars in my sporran."
The event is supporting charity Child Fund NZ and the charity's chief executive Paul Brown is putting his body on the line for the cause by running his first marathon.
"I am feeling a mixture of fear and excitement," said the 41-year-old.
"About 10 of us from ChildFund ran in a 10km event last year, and the buzz we all had from finishing that event was amazing. So I am looking forward to that same thrilling feeling - except 42km is a very long way."
Brown says he is not a natural runner but has trained for 18 weeks.
Jelley has some advice for runners, like Brown, taking on the marathon distance for the first time.
"Have fun, it is really that simple," he said. "If you're not enjoying it or not getting a rush when you cross the finish line having completed a great personal goal, then you are doing it for the wrong reasons.
"But more to a racing perspective, take it slow to begin with and that doesn't just mean the first 5km, it means the first 25-30km, the real race starts over the last 10kms and you need to have plenty left in the tank, both physically and mentally."
North Shore Marathon
August 28 from The Race Head Quarters at Gould Reserve, Takapuna Beach.
Event Options
Full marathon, half marathon, 5km fun run or walk and children's 2km beach run.
The event will donate $1 from every entry to ChildFundNZ and they are encouraging all participants to fundraise through everydayhero.co.nz or childfundchallenge.co.nz, northshoremarathon.co.nz