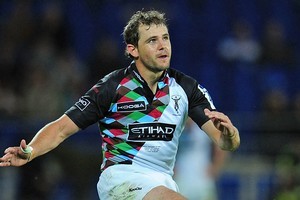 The weather was glorious, the setting sublime. A hot sun baked down on the near 4,000 crowd at the local 'Stade' and the rugby festival was in full swing.

Here at Lacaune in the south of France, 40 kilometres into the hills of the beautiful Tarn region beyond Castres in the heart of French rugby land, an unlikely New Zealand brains trust sat on the grass analysing and discussing the All Blacks and the forthcoming Rugby World Cup.

A strange place then, for those old New Zealand opponents, Nick Evans and Chris Masoe to meet up again and chat about times past, present and future.

Both were with their clubs, Masoe's Castres Olymique and Evans' London Harlequins, at the local Tarn club for the annual 'Challenge Vaquerin', a traditional pre-season event in these parts.

But much of the talk was inevitably of New Zealand, and the great tournament about to start there.
Evans, in particular, had some intriguing thoughts to offer, especially concerning the weather.

"For me, the biggest thing about this World Cup, and people have not really talked about it, is the weather.
I know what the weather is like in New Zealand in September and October.

"It is very often wet and windy. And that is going to have a significant effect upon this tournament, in my view. You come down to some really important games, like England v Scotland or Australia v Ireland for example, and if it is pouring with rain such a match will become a lottery.

"I think there are going to be a lot of games like that. And because of the weather and those difficult conditions it could create, I think a lot of the games will be tighter than many people think.

"In some of those crucial games, the weather might play quite a part in it all."

Evans believes the semi-finalists will be New Zealand v South Africa and England v Australia. So England to sneak up and win another World Cup against the odds, I suggest, tongue sticking through my cheek?

"I have been doing some corporate stuff back in the UK" he says, "and I always get asked that question. My answer is, 'No mate'. No way."

Evans spent four weeks back in New Zealand during his season break and got to see first hand how the country is dealing with the World Cup.

So did he at last have pangs of regret about not being involved?

"I said all along, that's fine and everything. But as we get closer to the World Cup, you do think more about it. But I was never close to going back. I met Steve Tew in Switzerland last year at a promotion and we had a chat and a laugh. But I knew they were never going to change the rules and I knew that before I left.

"And I would say now, I would not have changed this (his decision to make a new career in London with Harlequins) for anything. For me personally, I have no regrets, I have enjoyed it. The main thing is that I have played well. But I found the right club.

"I did a lot of research before I came over and that is one of the most important things I would say to people thinking of coming over here. Do your research and go to a club you are going to play well at.

"Don't just go to the club with the biggest pay packet. OK, some people need that and that's what it is all about for them. But if you enjoy yourself that is what makes it worthwhile."

Of all the New Zealanders who have played around the world in the build-up to this World Cup, which single player should the NZRU have moved heaven and earth to get home, I asked Evans? He didn't hesitate on that one.

"Carl Hayman should have gone home. At the time they tried to get him they should have got him. I don't know what's going on down there in Toulon (Hayman started just three matches last season for the French club, yet they are paying him a reputed 625,000 euros a season).

"But technically, he is still the best tight head prop. He was the best and probably still would be top of my list of tight heads in the world."

So what would World Cup triumph mean to New Zealand?

"Everything" said Evans. "Having been involved in 2007, I know what it means. It would be tremendous for the country at such a difficult time with the earthquake and things.

"I think the whole earthquake thing has just increased the nervousness about the World Cup. It has created a whole lot of uncertainty and us Kiwis don't like that. We are a pretty laid back nation but it has added to the nervousness of the whole place.

"And the way I see it, if Dan Carter and Richie McCaw stay fit I can't see the All Blacks losing it. The way they both influence the game is key. Carter knows the All Blacks' game inside out and McCaw's captaincy is crucial. I just can't see them not winning it.
Peter Bills is a rugby writer for Independent News & Media in London.
- THE INDEPENDENT