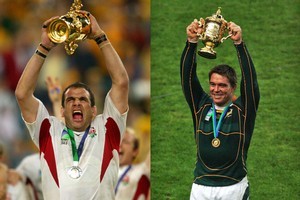 England captain Martin Johnson lifted the World Cup in 2003, followed by Springboks skipper John Smit four years later. Photo / Getty Images
With the 2011 Rugby World Cup less than a month away, the Herald looks back at the past six tournaments in a three part series.
The final edition looks at the 2003 and 2007 tournaments.
Part one: 1987 and 1991
Part two: 1995 and 1999
2003
Video: Great World Cup moments - 2003
How we won it: England - A bloody-minded band of brothers
Setting the scene: Mitchell at the helm as England rises
Tournament action: Four more years - the tournament goes on
Tournament star: Martin Johnson - Hard leader of the pack
ABs memories: Justin Marshall - 'Danger of World Cups is they mean so much'
2007
Video:Great World Cup moments - 2007
How we won it: South Africa - Python applies squeeze
Setting the scene: Henry gets his (first) go at the title
Ref's contentious calls leave nation seething
Tournament action: Boks hold nerve in a Cup of big upsets
Tournament star: Agustin Pichot - Skipper who shamed IRB
ABs memories: Anton Oliver - 'It was like slow strangulation'
2011
Looking ahead:High stakes in road to redemption
Hold heads high whatever the result
World Cup highlights
The greatest RWC tries
Video: All Blacks greatest World Cup tries