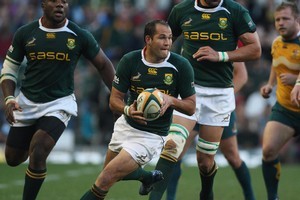 All Blacks backline coach Wayne Smith rates Springbok halfback Fourie du Preez as "the best footballer we have played against over the last eight years".
"Du Preez might be a bit rusty at the moment but he is an outstanding player," Smith said, alluding to du Preez not being quite on song last week in his first match for eight weeks and his first test since 2009.
He said the Springboks were trying to grow their game beyond the kick-and-chase strategy, so effective in 2009. "There's no doubt that they are looking to use the ball more. If you look at the test we played in Wellington, we kicked the ball more than they did. Clearly, they are trying to develop a game based on ball in hand.
"Having said that, they are still pretty dangerous with that kicking game, as well as their drives, so they can go back to Plan A if they feel the need. But what has changed is that teams have got better at taking the high ball," Smith said. "A lot of emphasis has been put on that in the last three years and kicking has become more of a risk these days."
He said the Boks' test match against the Wallabies in Durban had been a fascinating struggle.
"They played pretty well in the first 30 minutes and then ran out of steam, clearly. But I would say Peter de Villiers saw some things he would be pretty happy with and some things he would like to fix up. As they get more time on the track they are going to be very dangerous.
"The thing with the Boks is that they have a record of being able to win big matches, and I think that's what they are counting on [for the World Cup]."