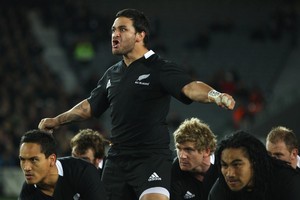 Can you imagine anything worse at the World Cup than the All Blacks dipping out again? I can.
I can imagine the country turning dark, bitter and depressed while the world is here. I can think of nothing worse than that.
Rugby fans everywhere know one thing about New Zealand. Out of these faraway islands come giants. At Twickenham they run out in a confident, purposeful lope, a long black line of them. A black tide that seems never to end.
Year after year, players come and go but the black remains - rugged, remorseless, rugby's hardest to beat. You know if you are English, French or Australian your team can beat the All Blacks occasionally. But you know that four times out of five New Zealand wins.
If you are South African, your side has slightly better odds - but not much. The All Blacks have won the Tri-Nations in 10 of 15 years so far. New Zealand franchises have won the Super rugby contest just as often. But you also know, if you are English, French or any of the others, that in a World Cup you need only beat the All Blacks once.
Sporting contests come in two forms: leagues and tournaments. Leagues are won by those who win most consistently. Tournaments are more interesting because the most consistent might not win.
It is the difference between England's FA Cup and its Premier League championship, a grand-slam tennis tournament and the ATP rankings.
Tournaments mean the best exponents of any sport have to know how to lose. Consistent winners suffer a loss with grace, not because they are naturally gracious but because they are proud. They know their status and they do not undermine it after a single defeat, even an important defeat, with abject despondency.
All Blacks deal with it as the best consistently do. Rugby people around the world probably imagine the rest of us react with the same class. How wrong they are.
They may have read about our despair but you have to be here after a World Cup failure to believe it. You have to hear the radio talk, read the sports pages, listen to the despondency. If it happens this year, visitors will be amazed and amused. They would find us not just bad losers and miserable hosts, but not as confident in our rugby as they had supposed. They would reassess their respect for it.
We the fans would betray a proud heritage. If it happens, let's be the land of the All Blacks this time.