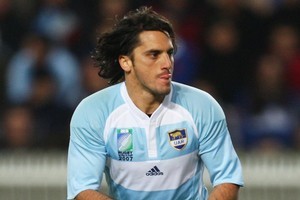 Tournament star: Agustin Pichot
He was not even the best player on his team - Juan Martin Hernandez or Juan Martin Fernandez Lobbe were Argentina's game-changers in 2007. He was not the best halfback at the 2007 World Cup - South African Fourie du Preez would have won that title by a long chalk.
But nobody else strode the stage with as much personality and vigour as Argentine captain Agustin Pichot.
He cajoled match-winning performances out of his under-the-radar side, including the World Cup opener against France - a match that would have catastrophic repercussions for the All Blacks further down the track.
Most of all, the articulate, strident skipper imposed a sense of shame on to the rugby establishment.
Here was a side from a country with no professional league, who had plucked the bulk of its squad from scattered clubs around Europe, taking on and beating the "big" countries and making a mockery of their unhealthy stranglehold on the IRB top table.
Los Pumas, the team nobody would play with, became the team nobody wanted to meet in France.
Arguably, Pichot was not just one of the dominant figures in a fairly bland World Cup, he has been one of the most important rugby figures of the past decade.
He has worked tirelessly promoting the importance of a strong Argentina, trying to find them a home either in an expanded Tri-Nations or Six Nations and also helped the IRB put their ultimately successful Olympic sevens bid together.
The Pumas are set to join the Tri-Nations next year, which Pichot is grateful for, but not without reservations as he told the Guardian newspaper in 2009.
"Important people have been talking a good game about supporting the Pumas but they don't seem to ever deliver. In Europe everybody - fans, union officials and players - used to say to my face how they would love to see the Pumas in the Six Nations and that would be the ideal solution," he said.
"Of course it is the obvious solution, we know that. We are second or third generation Europeans, we are Spanish speaking, 90 per cent of our squad are based in Europe and many have made their homes there.
"But when it came to it ... the IRB held a summit meeting on the subject not one of the Six Nations committees supported us in our request. It was a very disappointing moment and hit the Pumas hard. We thought people supported us."
"People" did support them, just not the people charged with running rugby. What they achieved in 2007, however, after years of World Cup disappointments, ensured Argentina moved from unloved to an IRB embarrassment.
In the opening match they turned the hosts' opening ceremony celebrations into a funeral march, winning 17-12.
Even more impressive was their 30-15 dismantling of a desperate Irish side in the final group game. Pichot played a critical role, as did first five-eighths Juan Martin Hernandez, who drop-kicked three goals.
On to the quarter-finals where Argentina met another country with a heap of bargaining power at the IRB but stuff-all rugby pedigree to justify it. Yes, the Scots.
Given their respective performances at the Cup to date, Argentina made surprisingly hard work of the 19-13 victory. For a team that usually plays less than six internationals a year, tiredness seemed to be creeping in.
This was borne out in the semifinal, when they were outclassed 13-37 by Du Preez and the rest of the Boks.
Summoning one final effort, the Pumas then beat the hosts for the second time in less than two months at Stade de France, 34-10 in a five tries to one blitz that saw them take third place.
Pichot's role in all this was more than just leadership. He was a damn fine halfback. Yes, speed of thought allowed him to stay two steps ahead of the game, but his core skills - passing, running and kicking - were very good.
He had an unpredictability about him that made for compelling viewing. Pichot would take quick taps when it was least expected, dart down the narrowest of blinds and, generally speaking, be a constant, ear-buzzing pest.
When he retired in 2008, he had played 73 tests for his country, scoring 60 points.
2003
Video: Great World Cup moments - 2003
How we won it: England - A bloody-minded band of brothers
Setting the scene: Mitchell at the helm as England rises
Tournament action: Four more years - the tournament goes on
Tournament star: Martin Johnson - Hard leader of the pack
ABs memories: 'Danger of World Cups is they mean so much'
2007
Video:Great World Cup moments - 2003
How we won it: South Africa - Python applies squeeze
Setting the scene: Henry gets his (first) go at the title
Ref's contentious calls leave nation seething
Tournament action: Boks hold nerve in a Cup of big upsets
Tournament star: Agustin Pichot - Skipper who shamed IRB
ABs memories: 'It was like slow strangulation'
2011
Looking ahead:High stakes in road to redemption
Hold heads high whatever the result
World Cup highlights