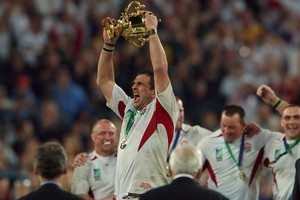 Tournament star: Martin Johnson
It is worth contemplating how rugby history might have changed had Kay Johnson said: "You've got to be kidding, love, there's no way I'm living in Leicester."
For a start, King Country would never have been relegated and we might look at Tihoi RC in the same light we view Waitete.
Brad Thorn might have never bothered, knowing his path to the coveted All Blacks jersey was being blocked by an English-born Pinetree protege.
But most indisputable of all is the fact that if Kay Johnson insisted on staying in Taupo, had she not been infected by wanderlust, England would never have won the World Cup.
Martin Johnson was the colossus in a pack full of giants.
Men like Jason Leonard, Ben Kay, Richard Hill and Lawrence Dallaglio formed the backbone of England's 2003 World Cup campaign, but nobody doubted that Johnson was the beating heart.
He was not a flashy player by any stretch. You will not find many clips of Johnson carrying the ball one-handed, a la Meads, nor will you find him kicking like Robin Brooke. He would have looked lost had he been shifted to No8, like South Africa's ball-winning second-rower Mark Andrews was to great effect at the 1995 World Cup.
No, Johnson was a hard man, a set-piece beast and a leader you followed to the ends of your physical capabilities, but he came without bells and whistles.
The Solihull-born lock loved dark places. If there was a chance to apply unnecessary, yet undetectable force to somebody at the bottom of a ruck or in the maelstrom of a maul, he rarely passed it by.
The criticism of England as a stodgy, fun-free side meant nothing to him as a player. The only statistic he ever cared about was the score at the end of the game. Going into the 2003 World Cup in Australia, it was a point he pressed home to his colleagues.
"In a World Cup it's all about pressure," Johnson said for a series on World Cup-winning captains. "We played South Africa, we won by 12-15 points [25-6 in their Pool C match] and we were criticised. We didn't do this, we didn't do that.
"We won," he said. "In the semifinals people were writing us off, saying we didn't have a chance of winning. We had the realisation we didn't have to score five tries from within our own half and do all these things that people think is good rugby. It's just about winning a semifinal. If we win it by a point we're in the final. That's all it takes."
Never was that dictum more appropriate than in the final. England's big pack dominated the Wallabies, but the dominance was rarely translated into points. In fact, it almost seemed to count against them as referee Andre Watson started finding fault in some of their set-piece work, an almost ironical turn of events given Australia's lack of proficiency in the scrum.
A last-minute Elton Flatley penalty sent the game into extra time. Another late penalty drew Australia level again before, in the game's final acts, Johnson drove his team forward, laying the perfect platform for Jonny Wilkinson to snap the drop goal that won the cup.
"It was a frustrating game for us in many, many ways. But you've got to overcome that, otherwise that frustration would still be there now," Johnson said.
"We're in a dogfight, we'll do whatever it takes to win. That's knockout rugby. Just win it."
The most instructional segment of the 2001 Lions tour movie concerns Johnson reading the riot act to his colleagues.
This was an unhappy tour, with the management style of Graham Henry - more dictatorial than it is now - rubbing many, most notably Austin Healey, up the wrong way.
Johnson was said to be ambivalent about aspects of Henry's leadership, but sick of hearing the constant carping and moaning of his teammates, he issued a paraphrased ultimatum: "Shut up or wear one of my fists in your mush."
Moaning about the coach doesn't win games. It's such a simple dogma, but one that will be Johnson's legacy: the only things that matter are those things that help you win.
2003
Video: Great World Cup moments - 2003
How we won it: England - A bloody-minded band of brothers
Setting the scene: Mitchell at the helm as England rises
Tournament action: Four more years - the tournament goes on
Tournament star: Martin Johnson - Hard leader of the pack
ABs memories: 'Danger of World Cups is they mean so much'
2007
Video:Great World Cup moments - 2003
How we won it: South Africa - Python applies squeeze
Setting the scene: Henry gets his (first) go at the title
Ref's contentious calls leave nation seething
Tournament action: Boks hold nerve in a Cup of big upsets
Tournament star: Agustin Pichot - Skipper who shamed IRB
ABs memories: 'It was like slow strangulation'
2011
Looking ahead:High stakes in road to redemption
Hold heads high whatever the result
World Cup highlights