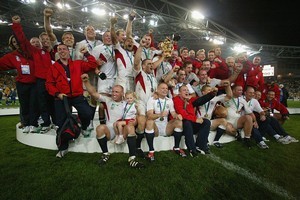 How we won
We were known as Dad's Army but the English team which won the 2003 World Cup were more like a band of brothers.
From personal tragedies to the team's triumph, there was a core of players in Clive Woodward's squad who experienced the full range of emotions during a journey that took us to the top of world rugby.
Despite our staid image, there was also a range of styles we used along the way, and a trickle of younger players who helped energise the squad.
Over time, we built up an instinctive understanding of how each other played. You would automatically know the default position that players would go to when in contact, whether they might pass early or take the ball in. Added to that, we learned by our mistakes and a consistent lineup helped us rectify them.
I suppose the team were built up over a six-year period and people forget that we were known as chokers at one point because of our Six Nations or Grand Slam habit of being well placed only to lose on the final weekend.
What made that team so special? When I look back, one thing stands out. There were a lot of bloody-minded people in that camp who were not only incredibly determined to achieve, but were convinced that England could be No 1. And captain Martin Johnson's tough attitude had an enormous effect.
This team trait would come out in all sorts of ways, and I remember the training and fitness tests where everyone was determined to come top in their positions. It was all done in a healthy way - no one wanted to rub people's face in it, but there was a steely determination to come out on top.
The build-up also saw us stake our claim in no uncertain terms. We beat the All Blacks in Wellington after being reduced to 13 players at one stage, and then won in Australia. Beating those sides at home would have been one thing, but winning in the southern hemisphere - especially when the tournament was to be held there - was another matter.
The bonds in this team were incredibly strong and we saw teammates live through some incredibly hard times. Ben Cohen's father died as the result of a beating in 2000, after he stepped in to quell a brawl outside a nightclub. In late 2002, Will Greenwood's baby son died shortly after he was born prematurely. And Martin Johnson's mother passed away in 2002. We did whatever we could to help them through those times and I think the rugby helped those guys deal with difficult situations. This made the bonds even stronger.
Tactically, we had been a forward-orientated team but after the introduction of players like Jason Robinson we expanded that. But opponents worked out what we were doing and shut that down so we became more compacted again. The ability to adjust was very important. And the rise of players such as the relatively young and dynamic props, Phil Vickery and Trevor Woodman, gave us added impetus. The week leading up to the match involved grabbing as much sleep as you could when the body felt like it. We had very light training - there was no point in having a smash up. We had honed our game over a long period, and were physically prepared. There was really nothing that could be added in those lead-up days.
In some ways, all of this preparation found the perfect outlet when Jonny Wilkinson landed the World Cup winning drop goal with only seconds left during extra time against Australia in the final.
Tactically, I recall certain aspects of the game. We definitely set out to limit the amount of ball certain Australians got, especially George Smith and Lote Tuqiri.
Flanker Smith was used more as a No 8 roaming behind the line picking out opportunities. We were well aware of the Tuqiri threat.
Australia scored from a diagonal kick to Tuqiri, using his height advantage over Robinson. We were surprised they didn't keep going to that ploy.
We felt very positive at halftime but seemed to lose our momentum in the second half and were losing the penalty count in the scrums which destabilised us.
Under pressure, everyone knew what to do in the final seconds. There was a good 12 months of preparation for that moment, everyone knowing what they had to do.
And when one man demanded the ball for the drop goal, he would get it.
I'm still involved in rugby, doing coaching work at Saracens, the club I played for.
I've never watched a replay of the final though.
I've seen plenty of highlights over the years however, and for some strange reason you can feel aloof from what went on.
I look at the clips and think "geez, was I really there?".
2003
Video: Great World Cup moments - 2003
How we won it: England - A bloody-minded band of brothers
Setting the scene: Mitchell at the helm as England rises
Tournament action: Four more years - the tournament goes on
Tournament star: Martin Johnson - Hard leader of the pack
ABs memories: 'Danger of World Cups is they mean so much'
2007
Video:Great World Cup moments - 2003
How we won it: South Africa - Python applies squeeze
Setting the scene: Henry gets his (first) go at the title
Ref's contentious calls leave nation seething
Tournament action: Boks hold nerve in a Cup of big upsets
Tournament star: Agustin Pichot - Skipper who shamed IRB
ABs memories: 'It was like slow strangulation'
2011
Looking ahead:High stakes in road to redemption
Hold heads high whatever the result
World Cup highlights