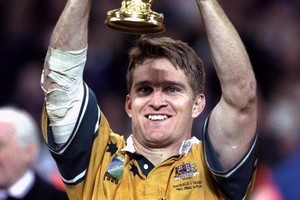 How we won it: Australia
Trust. That was the vital ingredient which made the Wallaby side tick so well in the 1999 World Cup.
We had total confidence and belief in each other, from the quality of the management and analysis to knowing that the guy next to us on the field would always make that vital tackle or deliver that important pass and that we could rely upon the guys on our bench.
In some ways, we may have been ahead of our time. In particular, our coach, Rod Macqueen, actively coached us only half the time, leaving the rest to his assistants. This is more in line with how things are done these days rather than what was standard practice then.
The coaches also broke the game down into key areas - forwards, backs, defence, scrums and lineouts - and appointed individual players captains for each.
We had very good defensive structures, chiefly organised by our defensive coach, John Muggleton, the former Parramatta league player.
And we were very fit, much of the credit there belonging to fitness coach Steve Nance.
Whereas injured players might once have sat out training, Steve worked them furiously on grinder machines and exercycles. This training was harder than the real stuff, which had the effect of reducing the number of injury-enforced absences from training.
There was a wonderful environment in that team, with a balance between doing the work and enjoying ourselves.
There is often a small element of luck involved when the chemistry works so well in a team, but 95 per cent is down to good management and I certainly believe Macqueen was ahead of his time in the way he organised us.
We were even fortunate on the injury front - the loss of Phil Kearns was the only serious blow during the tournament.
So far, so good, you might say. The Wallabies played out the perfect tournament, where nothing went wrong. Not quite.
What's that saying about the best laid plans? Disaster almost struck my tournament.
We had been given Wednesday night off before the semifinal against South Africa at Twickenham so my wife and I went out to dinner with friends in London. The next morning I woke in a dreadful state with a gastro problem, repeatedly vomiting and suffering from diarrhoea.
By the morning of the match, I hadn't eaten for nearly three days. But after a 10-minute walk in the gardens discussing my situation with captain John Eales, I told Macqueen I would be ready to play. I recall having a piece of toast at about 10.45am.
The World Cup semifinal was no place for passengers or less than your very best, and I vowed that if I messed up, the illness would not be offered as an excuse.
We won an epic battle against the Springboks, although I didn't last the distance. With about five minutes to go I was exhausted and replaced by Nathan Grey.
We were leading at the time but the Springboks levelled and the game went into extra time.
It was frustrating, not being a part of the final stages, but we won thanks in part to a famous Larkham drop goal.
Preparations for the final hardly went to script either, as most New Zealanders would know. We left early on Sunday morning for Cardiff where we expected to meet the All Blacks in the final.
Soon after arriving, we looked over videos of their performances, then split into backs and forwards to do our analysis.
Of course France sent the All Blacks crashing out and sent our analysis team into a mild panic.
We had no visuals of the French from which to do our analysis, and the next couple of days were spent frantically sorting that out.
The French had got on an amazing roll against the All Blacks, and we reasoned they would be intent on running the ball at us in the final so we opted to rely heavily on a kicking game and ensure our chasing was in good order.
France may well have played their final already and we won convincingly, by 35-12.
It remains a tournament of wonderful memories.
There are times as a test match player when your boots feel as if they are glued to the turf, when the game is difficult.
But in 1999, it felt as if I was running on top of the ground. When you reach a place of such confidence, the game seems as if it has slowed down, that you have added time to figure out the next move and the best options.
It doesn't happen often, but that was how it felt for me at that World Cup.
One of the great things is that I do have memories of the final. Plenty of them, and deliberately so.
The final against England in 1991 had flashed by and only a couple of tackles, one pass and the fulltime whistle remain as keepsakes.
Older and wiser, I was determined to embed the 1999 final in the memory.
I can recall so much about that game, but by far the fondest memory remains the look of sheer joy on the faces of teammates who had not won the World Cup before.
1999:
Video: Great World Cup moments - 1999
Setting the scene: Big shift when the game turned pro
Tournament action: Sacre bleu! France demolish All Blacks
How we won it: Australia - 'Trust gave us belief'
All Black memories: 'In reality we were a team of individuals'
Tournament star: John Eales - King John's coronation