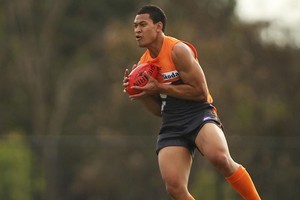 Former Storm and Broncos star turned AFL player Israel Folau says his conversion to Australian Rules has not gone well - and doesn't rule out returning to league to play for the Warriors.
Australia's youngest ever rugby league international, Folau revealed that a return to the NRL could be on the cards if his code hop to Australian rules football fails. Folau, 22, who scored a total of 302 NRL points for the Melbourne Storm and Brisbane Broncos, before this year signing a multi-million dollar contract for the Greater Western Sydney Giants (GWS) for the 2012 AFL season.
But he seriously considered quitting the new AFL expansion side in May when his code switch looked overwhelming.
"I want to at least see out my four-year contract with GWS but I know I've got options in the future if things don't work out," Folau told the Herald on Sunday. "Whether that's playing rugby league [for the Warriors] in New Zealand or playing for another NRL team it would be a tough decision.
"I'm fortunate that I can play either Australian rules football or rugby league. I chose the AFL because I felt I had achieved what I wanted in the NRL and my ambition was to test myself in a new football code to see if I could make it. It wasn't easy in the beginning because I was constantly questioning myself but I've learned a lot in a short space of time and I'm very happy at GWS."
A key member of the Storm's 2007 NRL premiership side, patience has been the name of the game for Folau as he learns the ropes at GWS. He has given himself two years to find his feet as an Australian rules footballer.
"It's going to take me two years to get up to speed in the AFL," Folau explained. "Australian rules is a more difficult sport to learn than rugby league. There's more running and the basic kicking and marking skills are different to what I was used to in the NRL. They are two different codes but I've found Australian rules more testing on my body as well."
The son of Tongan immigrants to New South Wales, Folau expects more Polynesian and New Zealand-born players to leave rugby league and union for big money AFL careers in the future.
"Australian rules might not at first look as interesting as rugby for Polynesian players but for those who don't make it in rugby, they might have a crack in the AFL. Financial security is very important to Polynesian kids and professional sport is only a short career."
Meanwhile New-Zealand born Karmichael Hunt, another former Broncos star, has endured a torrid first season in the AFL for the new Gold Coast Suns franchise - and there are doubts whether he will make it.
Hunt has "hit the wall" in his transition to Australian Rules according to Suns coach Guy McKenna. Despite ongoing speculation about Hunt's long-term future, Folau believes mate will eventually prove the sceptics wrong.
"I speak to Karmichael from time to time and whatever people think or don't think about him nobody can deny his ability," Folau said. "He's never had any regrets about leaving the NRL for the Gold Coast Suns and people forget that he's only in his first season in Australian Rules. He's played 13 AFL games this year and that experience is going to help make things a lot easier for him.
"The only thing wrong with Karmichael is that his body needs a rest and a good pre-season to get him in peak physical condition next year.
"We haven't seen the best of Karmichael in the AFL yet."
Hunt, who was omitted from the Suns squad for last night's derby clash against the Brisbane Lions, attributed his late season meltdown to a "nasty gastro bug" but insists he has recovered sufficiently to fight for his place in the closing rounds of the AFL season.
"I've got plenty left to give this season," Hunt said in his Gold Coast Bulletin column this week. "I lost about three or four kilograms and ate next to nothing for a few days so I was in a pretty bad way [due to illness].Thankfully, I have come good now ... I think I will be right to play."