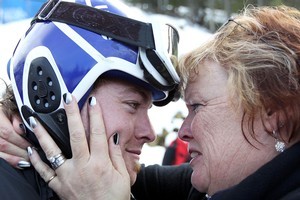 Adam Hall is an example of the saying "if you fall down get up and try again".
The 23-year-old shot into the New Zealand psyche when he won a Paralympic skiing gold medal in Vancouver last year despite falling halfway through his second run.
The Otago born Hall fulfilled a 15 year dream and this week he gets his first chance to compete at the Winter Games as adaptive snow sports features an extended programme.
The New Zealand event is the only elite snow sports games to combine both adaptive and able-bodied competition on the same courses. Hall can't wait to compete alongside the best able-bodied athletes in the world. "It is a very special thing to have Paralympic skiing in the Winter Games," said Hall.
"We continue to believe no distinction should be made between any athletes that perform at the highest possible level, against the best in the world," said Winter Games NZ chief executive Arthur Klap.
"It worked really well in 2009 with athletes enjoying the concept. And so once again, adaptive and able-bodied athletes will compete at the same time, on the same course."
"This will be my biggest event at home since the Paralympics," continued Hall. "It is a chance for New Zealand to see what it is that I do when I train and race overseas, except in this case I get to showcase it right here in our home mountains which is huge, I think."
He is up against a strong team from the UK that includes World Cup silver medallist, Ian Bishop, who lost both his legs while in Afghanistan.
Hall was born with spina bifida, which is Latin for a split spine, and his gold medal in Vancouver was New Zealand's first medal at the Winter Paralympics since 2002.
He had to beat a combined time of 1 minute 45.97 seconds set by German Gerd Schonfelder, and got there with around half a second to spare.
Hall was "wordless" when he won the medal and with more time he explained what the gold medal means to him now.
"Having achieved what I did at the Vancouver Olympics showed that if you have a dream no matter what it is and set goals to achieve along the way you can really surprise yourself on what you can accomplish," said Hall.
"The hard work and dedication set out by so many people, and organisation and the endless amounts of training, was what helped me win gold that day. I am just the engine. I could not have been the best alone."
Hall surprised everyone when he won after his fall.
"When I fell I guess the adrenaline kicked in. I didn't have time to think much. My body just knew to keep at it and do its thing: Get to the bottom as fast as I possibly could."
He has simple advice to others trying to overcome challenges.
"Never ever give up no matter what. Ninety-nine per cent of athletes in my situation in Vancouver would have given up. I didn't and I got rewarded ... True champions get up and keep on going."
Snow sports integrate athletes
Adaptive snow sports were integrated into the able bodied competition schedule at the inaugural Winter Games NZ in 2009, marking a world first for the two sets of athletes to compete together over the same course.
New to the adaptive programme for 2011 is the Para Snowboard Cross World Cup that will feature women's world champion Amy Purdy (USA) who had both legs amputated as a teenager, 2009 world champion, Tyler Mosher (Canada) and New Zealand's national champion, Scott Coates. A strong cross country field includes double Paralympic men's gold medallist Yoshihiro Nitta (Japan).