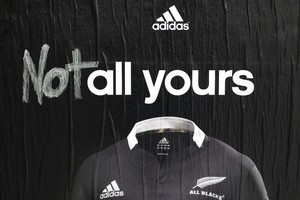 There is a perception among rugby folk connected more closely to grassroots than the upper levels of the game, that the New Zealand Rugby Union cares about three things in this world - the All Blacks, adidas and Sky TV, not necessarily in that order.
It's probably only halfway fair, but chief executive Steve Tew did nothing to disabuse people of that notion with his spirited defence of global apparel manufacturer adidas.
Nobody expected Tew to throw under the bus the company that will fund New Zealand rugby with close to $500 million by the time 2019 rolls around - though adidas New Zealand manager David Huggett did that himself upon launching a belated mea culpa. But Tew could have shown more foresight.
In a long interview on Radio Sport this week, corporate speak about product, suppliers and retailers, partners, consumers and customers, pricing strategy and commercial sensitivity hogged the air time.
Tew mentioned the word "fan" just once. A sign of the times perhaps, but before they became consumers and customers, fans used to be quite important.
Call it naivety, but wouldn't it be nice if the consumer became a fan once more, if the All Blacks switched back from a brand to a team and rugby became a sport again rather than a product? Ah, the romance.
Perhaps adidas could even be a sponsor, rather than the unholy-sounding commercial partner.
Adidas have every right to charge New Zealanders $220 for the replica jersey. They could put a secret pocket on the inside, fill it with fool's gold and charge $500 if they really wanted to. They're a company, not a government department, so aren't beholden to the opinions of the taxpayer anymore than the restaurant over the road is.
Still, they've made themselves look like goats in failing to explain with any conviction why the same garment is so highly marked up here compared to the United States, rather than trying to block access to the websites that sold their "product".
Tew's unguarded remark that "we've got a range of people now who have all become experts in retail" was just a modern-day variant of the old All Black mantra, that your opinion on rugby is worthless unless you've received a shoeing at the bottom of a ruck in a test match.
Yes, the NZRU had an unenviable balancing act, but a public admission that in these financially straitened times many All Black "fans" would find the cost of the "jersey" steep would have at least momentarily lent them a sympathetic ear.
As for Nicola Grigg's Marie Antoinette moment, words fail me, though not as badly as they failed her when she offered this pearl: "Why the hell shd @adidas change its prices?? It's like me telling Louis V I won't buy their bags anymore bcos they're too $$$."
If the All Black captain's reported squeeze needs to be told those buying accessories from the French fashion house fall into a slightly different demographic from those wanting a jersey identical to those their heroes wear, then our education system has failed worse than the adidas communications department.
The enduring beauty of rugby here is that it's our great egalitarian sport - or at least it once was.