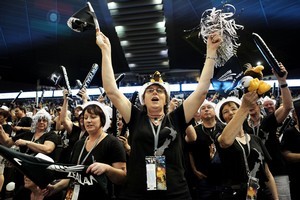 The new face in charge of the Australian netball team has promised to maintain the Diamonds' standing at the top of world netball, and to keep niggling New Zealanders.
Former Australian under-21 coach Lisa Alexander was yesterday confirmed as Norma Plummer's replacement in the top job, signing a two-year deal with an option for a two-year extension that would take her through to the next world championships in Sydney in 2015.
Along with snaring back-to-back world titles, Plummer's reign was also notable for her particular talent for winding up Kiwi fans. Alexander said she had no plans to adopt a more PC approach.
"I won't necessarily measure my words any more," she said.
"I enjoy the commitment that the Kiwi fans have for their sport and I respect it enormously. Hopefully, I'll keep them entertained as well."
Well regarded as a visionary coach with strong people-management skills, Alexander had been touted as the frontrunner for the role since Netball Australia announced in May that the position would be opened up once Plummer came off-contract after the world championships.
Plummer announced via Twitter last week that she had withdrawn her application as she was unable to combine the national coaching job with her new role in charge of the West Coast Fever, but one Netball Australia insider said Alexander had the job sewn up well before then.
Despite her coaching credentials and impressive record of back-to-back world championship titles, it is understood Plummer's divisive style and unwillingness to toe the Netball Australia party line were behind the national body's decision not to reappoint her.
But there is no doubt Plummer has left Alexander in a plum position.
Alexander's immediate focus is on the October test series against England and the Silver Ferns.