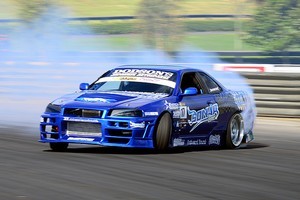 Kiwi success at the inaugural Tectaloy International Drift Challenge in Sydney over the weekend augurs well for the 2011/12 D1NZ Drifting Championship in New Zealand.

The Challenge - part of the Yokohama World Time Attack Series at Sydney's Eastern Creek circuit - was won by Kiwi Curt Whittaker from fellow Aucklander Daynom Templeman with the only Australian to make it through to the top four, Beau Yates, third.

Whittaker, who drives a Toyota 2JZ-engined Nissan Skyline coupe, finished runner-up to fellow Kiwi team member Gaz Whiter in the 2010/11 DINZ National Drifting Championship, and is one of over 60 drivers from all over the country committed to contesting the bigger, better six-round 2011/12 New Zealand title chase which begins in two month's time.

Included in that list is Whiter (Nissan S14) from Dargaville, who will be gunning for his fourth DINZ Drift King title, Templeman, a former New Zealand Off-Road champion and circuit ace who drives a Mazda RX7, as well as Red Bull-backed Aucklander 'Mad Mike' Whiddett (Mazda RX7), Whangarei driver 'Fanga Dan' Woolhouse (Holden Commodore), and Pukekohe's Carl Ruiterman (Nissan S14).

The 2011/12 DINZ National Drifting Championship series kicks off at Feilding's Manfeild circuit on Friday October 28 and Saturday October 29.

Subsequent rounds will follow at Pukekohe Park Raceway and Taupo Motorsport Park before Christmas, then Auckland's Mt Smart Stadium, a new street course in Whangarei, and Hampton Downs in the New Year.

Each round will include qualifying and elimination battles for both D1NZ and a new DINZProAm feeder series, and three - Pukekohe, Taupo and Hampton Downs - will be supported by New Zealand's first dedicated Time Attack (fastest single lap) series.

This season fans will also get to see twice as many battles, the traditional Top 16 competition expanded to a Top 32 because of the number of drivers planning to compete.


New Zealand was one of the first country's outside Japan to set up a dedicated drift series and since 2003 the local scene has developed into one of the best - and definitely closest and most competitive - in the world.

Many of the top drivers - past as well as present - have competed overseas, with a number shipping their cars to the United States for the Red Bull-backed 'World Drifting Challenge' event which up until last year ran on a temporary course on the Long Beach wharves west of Los Angeles.

Others have competed with distinction in Europe, Asia and - as the Kiwi team proved again over the weekend - in Australia.

It was this early take-up then willingness to travel and take on all-comers which has made New Zealand's series what it is, something organiser Brendon White is justifiably proud of.

"Though there are now something like 40 drifting championships in the world ours is consistently recognised as one of the top five elite ones, "he says.

2011/12 D1NZ National Drifting Championship

Rnd 1: Oct 28-29 2011 Manfeild Feilding
Rnd 2: Nov 25-26 2011 Pukekohe Park Raceway
Rnd 3: Dec 16-17 2011 Taupo Motorsport Park Taupo
Rnd 4: Feb 10-11 2012 Mt Smart Stadium, Auckland
Rnd 5 March 09-10 2012 Whangarei Street Course, Whangarei
Rnd 6: April 06-07 Grand Final, Hampton Downs, northern Waikato