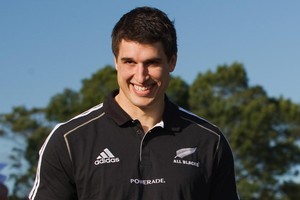 The All Black squad for the World Cup is just weeks from being announced.
The selectors settled on the core of the group last year and this season have been whittling away at others needed to round the squad out to the 30.
There is no chance a Jason Hewett, Jonah Lomu, Rhys Duggan or Ben Atiga will slip in this time.
The 2007 squad carried no surprise choices although there were several players, like halfback Andy Ellis, whose selection got some fairly extensive public debate.
This time? Hard to see any surprise faces unless there is a rethink at hooker, a loose forward shuffle and Matt Todd, Victor Vito or Luke Braid is picked to make up the quintet, or someone is injured in South Africa.
Only Jared Hoeata came screaming across the rugby landscape this year and forced his way in at lock but if the mail is right, he will fall out of the squad if the medics believe Anthony Boric's foot has healed enough to get him through the tournament.
Sean Maitland did not quite do enough in the congested wing market, Tom Marshall looked promising as did Tawera Kerr-Barlow, Hika Elliot is a toss-up for third hooker but they are blocked by plenty of other talent.
There is no one like Manu Tuilagi, who has leaped on to the English scene and into the tick column in the selectors' notebooks.
The Poms have gone into raptures about their latest player filched from the islands, the hulking midfield back who scored against Wales with a robust switch which would be bog standard on any rugby field in this part of the world.
But clearly it is strange optical fodder for the Brits, who have gone into vitriolic overdrive about the latest edition of the famous brotherhood. His play may be a breath of fresh air and let's hope it does enliven the regular England backline dross.
Tuilagi is part-Jeremy Guscott part-Inga Tuigamala in his style, he gives some life to a stodgy lineup though Jonny Wilkinson defied his conventional stay-in-the-pocket reputation as he got up much flatter as backline director.
England have their bad taste black uniform but their play is some distance from the standards of the men who inhabit that now-infamous kit. Tuilagi's inclusion will help boost England's repertoire, night rugby will suit their experience and who knows what might happen. God Save New Zealand.