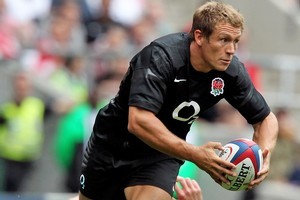 Forget about the black English rugby jerseys - it's a few of the men inside them that seem wrong.
The World Cup preparations are kicking into life in Europe with a series of build-up matches, including England sneaking past Wales at Twickenham over the weekend.
Well, it was apparently England. Put it this way - the amount of imports in the English rugby squad is starting to rival those in their cricket team, and that's saying something. The ancestry and three-year residency rules are getting a decent old workout with no sign of rest. For instance, the midfield against Wales was 20-year-old Samoan Manu Tuilagi - who has lived in England for six years - and former New Zealand Maori representative Riki Flutey.
The English team's import list has included Henry Paul, Shontayne Hape, Lesley Vainikolo, Flutey, Tuilagi, Dylan Hartley, Matt Stevens, Hendre Fourie and another new South African forward called Mo Botha. Is no gullible young footballer safe from these marauding English recruiters?
Having implied over the years that the All Black schemers dragged bewildered Pacific Islanders away from their homelands to bolster the legend of the black jersey, the English press - which is in awe of coach Martin Johnson - is having to explain away an embarrassing influx of foreigners in the famous white shirt, or the infamous black one. One report celebrated the team's "exotic flavour".
Might we imagine then - in mock retaliation - that Botha was happily chewing on a bit of dried beef when a Chinook swooped across the veldt and scooped him into the waiting arms of Johnson. Botha then resisted days of re-programming before suddenly bursting into God Save the Queen, proof enough for the English coach that he was of sound enough mind to be considered for World Cup selection.
There are touching stories in all of this, of course, including the one in which our very own Thomas Waldrom fast-tracked his lifelong ambition of playing for England by discovering that his nana was born in England. I almost felt like reading a volume of Keats after reading about that.
Will this import policy really lift the English fortunes though, or even help them match what they have achieved in the past? Rugby is a sport where unity and commitment is often vital to international success - a motivation exemplified by Johnson himself and his magnificent team of 2003.
England have a strong World Cup record, one that is clearly superior to New Zealand's in the professional era. They have never had the most talented of squads, but collective will has seen them win one tournament and contest the final of another since 1999.
They may be swapping a relatively successful formula based on a diehard commitment for a few flashy sidesteps instead. Many international teams have the odd import, by accident more than design, but the English policy is going well beyond that now.
Unable to produce their own athletic talent, or even needing it in the past, they are reshaping the national side but at a cost. You would have to doubt that these travelling professionals will care about the English cause the way men like Johnson, Steve Thomson, Jonny Wilkinson and Will Carling have.
Players may simply pick up a few English caps while they are passing through, which is increasingly likely since new English team rules require the players to be with English clubs. And a bloke like Flutey wouldn't have given a stuff about anything English for most of his life, so don't try to tell us he's come over all St George all of a sudden.
This is in contrast to the situation here. Many Pacific Island players grow up in awe of the All Black jersey and New Zealand is the team they desperately want to play for. Most were born or certainly raised in New Zealand, in contrast to the impression overseas detractors have tried to foster.
The boot is now on the other foot and the English are gambling with shifting sand, and undermining their team's identity in the process. An irony is that European riches were initially seen as a threat to the strength of the All Blacks, yet the relatively successful culture of the English team may now be under threat. And on a sporting emotions level, I'd argue that international rugby will be poorer if the England team isn't really English anymore.
* Robbie Deans looked like a man under duress at Eden Park. His face was strained, his demeanour that of a coach who has no tricks up his sleeve. Deans has always been a hard man to read at the best of times, and he's had plenty of those. Australia talked a confident game before the Bledisloe Cup clash, but their coach didn't appear to reflect that mood.
* The league revolution is here. The Kevin Locke-Shaun Johnson show promises a brilliant future for the Warriors, despite their one-point defeat against the Broncos. Johnson has only played a handful of NRL games yet the Warriors halfback has already produced two candidates for solo try of the year. His long range stunner against Brisbane was further proof that the club and the Kiwis have a superstar on their hands. Saturday night's match also emphasised the importance of securing James Maloney on a long-term deal. Maloney's agent, from what I gather, believes his charge is due a major deal.
Johnson has helped turn those stodgy early season Warriors performances into distant memories - they are title contenders this season despite the latest defeat.