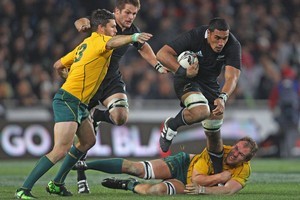 The painful lessons of previous failed campaigns prevented the All Blacks from drawing any World Cup conclusions about their victory last night.
They have been here before; top dog in the Tri Nations all puffy chests and super secure, only to have their root pulled out at the World Cup a few months later.
That's what happened in 1999 when they plugged France in Wellington and then again in 2003 when they smoked Australia in July 2003 only to be dumped out of the World Cup by the very same opponents.
Graham Henry was understandably keen to say that nothing is carried forward in test football; the superiority of one night doesn't transfer to the next.
"I don't think it makes any difference," he said when asked if his side had just struck a major psychological blow. "It is great to win the Bledisloe Cup and we are delighted at the way we played. But looking ahead there have been far too many occasions in the past where that has not amounted to a result at the World Cup.
"I think if we get complacent it will be curtains for us I would say."
His point is irrefutable, but the All Blacks will know they dented a Wallaby side that was starting to believe its own hype. What the Australians seemingly forgot in the build-up to this game is that this All Black team has several players who live for the big occasion and find something extra when they have to.
Ma'a Nonu and Conrad Smith were outstanding as was Daniel Carter. The real stars, though, were the loose trio.
"I thought Jerome [Kaino] imprinted himself on various Australians in defence," said All Blacks forwards coach Steve Hansen. I thought all three were outstanding not just as individuals but as a combination and they are one of the best, if not the best trio in the world."
The physicality and maturity of the All Blacks enabled them to rattle the Wallabies in the first 20 minutes and build a 17-0 lead by half-time that stretched to 20-0 when Carter dropped a goal.
Even the super-slick Wallabies couldn't comeback from that kind of deficit and they can be thankful they were really stripped. The All Blacks ran out of gas in the final quarter with several of the pack playing their first game in a few weeks.
"We learned a lot tonight," offered Wallaby coach Robbie Deans. "New Zealand will be very pleased. They were clinical. Well done to them. They scrambled defensively well and those sorts of qualities will be important come World Cup time."