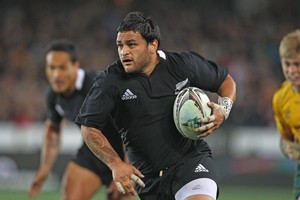 The All Blacks vintage of 2011 were indomitable, intuitive and ingenious in victory last night at the blacked out Eden Park.
Yes, it was a trial run for logistics (but a note to organisers: don't book a splotch of Australians into the northern stand seats occupying the "ll" in "All Blacks" so it says "A Blacks"). It was also a trial run for what must go close to being New Zealand's 1st XV.
A 40-7 win over a South African Invitational XV is one thing but to dispose of a dangerous Australian unit so clinically is another. While no New Zealand team could triumph in the Super Rugby final, they became a sum greater than their parts in black jerseys with a slim white collar. Someone just has to bevel the edges off those numbers so they look less like a 1980s computer font.
If we're talking indomitable, let's start with Owen Franks. Looking like a fridge on billiard table legs where his socks don't get a look in over mid-calf, he anchors the scrum at tighthead, produces crunching defence, blows over rucks like a gale-force southerly and is a ball player too, slipping some deft passes.
As a team, the All Blacks showed patience on defence. They shut down the wizardry of Quade Cooper and Will Genia for large parts, restricting the Wallabies for width and depth.
Dan Carter led the way. He was a 1.78m wall the Wallabies could not breach, be it tackling the Kermit-booted Kurtley Beale or working like a tracer bullet to track and hammer Cooper as he wove his way across the defence.
Richie McCaw was another example. His first tackle showed how he intended to continue and he took out Adam Ashley-Cooper to shut down a crucial foray in the first 40 minutes. That was despite someone flattening his snout.
Intuition was another point of difference. Piri Weepu came into his own, sniping and directing, using one of the best educated football brains in the country. But it was his ability to sense when to pass on the run that means he must be challenging Jimmy Cowan for the No 1 halfback spot.
Sitiveni Sivivatu might be a liability at times on defence but he can sniff out attacking opportunities like a dog looking for tucker. He always turns up and gets fed as one of rugby's best finishers.
Ingenuity was the final platform in the All Blacks romp. It only has to flash at two or three points to be of value. Take Conrad Smith sprinting up to nab the kickoff after the Digby Ioane try. He dashed down the right-hand touch with barely a footpath's width and fed Sivivatu on his inside. Robbie Deans' face in the coach's box said Smith had ruined his night completely - either that, or he had just seen the price ($16) for one of the Eden Park burger combos.
Carter showed his class in this regard, too. Seizing a big stage to notch the third drop goal of his test career or slipping through the odd grubber, Carter proved he is again a crucial component to the All Blacks' chances of success over the next couple of months.