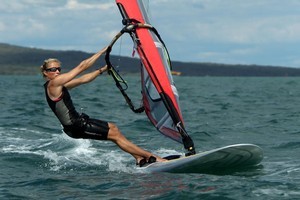 Over the next week New Zealand's top yachties will get their first real gauge of where they sit a year out from the London Olympics.
New Zealand's No1 ranked crews are competing at the Weymouth and Portland 2011 International Regatta - the official London 2012 test event.
With each country only able to send one entry in each class, the event gives the sailors the chance to test the venue for the Olympics, and see where they sit among the best.
New Zealand have sent representatives in nine of the 10 classes.
Kiwi windsurfers Jon-Paul Tobin and Natalia Kosinska have already started, with competition in the RS:X classes starting yesterday.
Tobin placed 6th in the two men's RS:X races. Great Britain's Nick Dempsey and Tobin's Dutch training partner Dorian van Rijsselberge are tied at the top of the table.
Kosinska opened with a 12th and a 10th in the 28-strong RS:X women's fleet which puts her in 11th position.
Spain's Marina Alabau dominated on day one with two wins. Laser and Radial sailors Andrew Murdoch and Sara Winther start racing overnight as well as New Zealand's two double-handed 470 crews - Jo Aleh and Olivia Powrie, and Paul Snow-Hansen and Jason Saunders.
Peter Burling and Blair Tuke, in the 49er skiff, start tomorrow.
W&P 2011 Regatta
New Zealand's current standings
6th - Jon-Paul Tobin: RS:X men (6, 6) (Total fleet: 34)
11th - Natalia Kosinska: RS:X women (12, 10) (Total fleet: 28)
Jo Aleh and Olivia Powrie: 470 women - racing started overnight
Paul Snow-Hansen and Jason Saunders: 470 men - racing started overnight
Peter Burling and Blair Tuke: 49er - starts tonight
Dan Slater: Finn - starts tonight
Andrew Murdoch: Laser - starts tonight
Sara Winther: Radial - starts tonight
Hamish Pepper and Craig Monk: Star - starts tonight