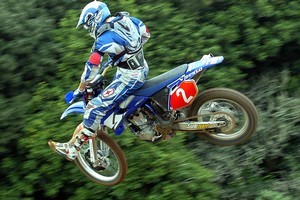 In people at the elite end of sport, the competition fire burns very bright. In some it burns bright for a short time and fades, while in others it never really diminishes much at all.
Long-time motocross rider Darryll King is one of those rare few in whom the fire of competition is probably just as powerful as it was when he was plying his trade and skill on the international stage in the late 1990s. And at 42, he's still putting many a rider to the sword and continues to win national championships.
Back in March this year King collected yet another New Zealand championship when he won the national MX2 (250cc) class and recently followed up that success across the ditch at the final round of the Australian MX Nationals at Coolum, Queensland.
He won the hard-fought 40 and Over Vet class riding with great pace and stamina to overcome local favourite Mick Cook with a second and three firsts over the four motos.
"To go to Australia and win the championship again is great," said King. "It's always good to win an Australian title and the competition is really fierce.
"The guy who challenged me really fiercely, Mick Cook, really wanted to win badly. I had to pass him in two races to beat him. I want to keep racing so I'll be back over there."
Despite his age, King bounced back from a big off on the Saturday of the race weekend when he high-sided his bike and almost destroyed it leaving him to nurse more than a few bruises to his neck and legs. Making good use of nature's remedies, King jumped into the sea for a bit of salt water therapy, and with a hastily repaired bike took to the fray again on the Sunday.
"I quite like a bit of the old-school method of healing and getting into the surf is always a good remedy. It's amazing what nature can do to your body," said King.
Not content to already have another two national titles safely tucked away at home, King is soon heading off to the United Kingdom for round five of the FIM Veterans' Motocross World Cup. King has so far only contested the US Grand Prix but turned heads when he stood on the podium after both races, gaining 44 points to leave him in 14th place on the table.
"I want to win a world championship and it's really important for me to get to the UK and race on that track because next year the world championship is only going to be a one-week affair at that track.
"The England round is the fifth round this year and I've only done the US race earlier this year. I couldn't do the next two rounds [Latvia and Belgium] due to a knock to my head so missed Latvia, and then chose to race in Australia rather than Belgium.
"The English Grand Prix in two weeks' time is quite important for me to do to learn a few things in preparation for next year," said King.
Although King's attempt to grab a world title this year had pretty much been put paid too, he'll still be keen to get a couple of wins and it's all about racing and getting one over your competitors.
"I want to win the [2012 World Veterans' Motocross championship] so you can't just turn up the day before at a place you've not raced on with 40-metre jumps and expect to win," said King.