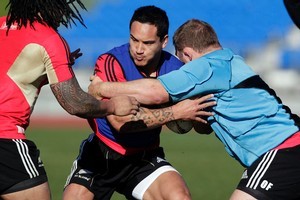 Just in time, Hosea Gear has got himself sorted to play the Wallabies in Saturday's start to the Bledisloe Cup.
He has not played for about six weeks, after finishing the Hurricanes stricken season then suffering a hamstring injury at the first All Black training camp.
That left Zac Guildford, Sitiveni Sivivatu, Ben Smith and Cory Jane as beneficiaries in the initial internationals against Fiji and the Springboks, where they all contributed further arguments for their inclusion in the Tri-Nations and World Cup tournaments.
If Gear stays intact for the rest of the week, he is being groomed for the left-wing role when the Wallabies arrive in search of an Eden Park victory, which has eluded them since 1986.
"I hurt my hamstring in the first All Black training camp we had with Gordon Tietjens," Gear said.
"It felt bad at the time but I think it has healed pretty well compared to other hamstring injuries I have had."
While the 27-year-old Gear was running around at training yesterday in Auckland, another wing, Sitiveni Sivivatu, lasted just a few minutes before hobbling away for treatment on a damaged knee. Jane ran on the right wing for much of the practice.
Gear said that he felt a bit rusty but had been working hard to bring himself up to speed with the physical requirements and team details he needed to digest. If he plays on Saturday, this will be his seventh test and a crucial match for the All Blacks and his World Cup aspirations.
"It is just working through game patterns, timings, moves and executions too. The hardest part about returning is getting into the mindset of playing again, getting into a routine, getting back to where I was," Gear said.
The left wing was magnanimous about the work of his teammates against Fiji and the Springboks. He had watched them play strongly, now it was his chance.
"For me it is a good situation, I could not ask for a better one," he said. "Guys in my position are playing pretty well and I rate those guys as the best wings in the world at the moment so this is an opportunity for me to put myself up to be measured against them."
He had no clue where he was in the World Cup pecking order but he was excited about getting a chance to audition for a place.
"I have always looked at the All Blacks as a clean slate," he said.
"I've had to start all over again each year and my spot has not been cemented so it is just about getting out on the field, doing my job, doing it really well and trying to put my hand up."
Gear was satisfied with his work late last year in Europe but once he got home he accepted he would have to start again in his All Black quest. It had been awkward with the Hurricanes. He had a collarbone injury which took him out for some time, there were player ructions, some of the leadership disappeared and he had to try to concentrate on putting out some reasonable work.
He had spoken often with All Black assistant coach Wayne Smith during the year to get a gauge on his work and what he should be working on.
His form had been so-so, but his best work had come towards the end of the series.
"He was a sounding board and gave me confidence about how to handle games and the situation," said Gear. He is undecided about his Super 15 destination next year, it could be the Hurricanes or Highlanders. He had a young family and they had to be happy about where they lived for him to be content with his rugby.
If he played at Eden Park he would likely mark Wallaby wonderkid James O'Connor who was very skilful, had strong footwork, defence and was deceptively strong in contact.
"The areas I need to work on are workrate, that is number one, maintaining that and boosting it and getting the ball in my hands," he said.