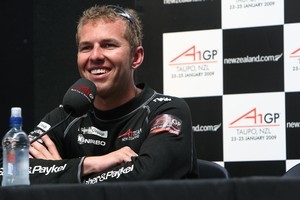 It was hoped Kiwi driver Chris van der Drift would ply his trade on home soil in November in the Superleague Formula.
But the event, tentatively scheduled for Taupo, has been put back a year. Taupo now has an option to stage a round of the world series in December 2012.
"The New Zealand round will be the final in the championship," says Geoff Langham, CEO of the Taupo Motorsport Park. Langham has recently returned from Europe after discussions with the organisers.
"They were still keen for us to stage a round at the end of this year, but after discussions with our potential financial backers we believe the timing is not quite right," he says.
"The cost of staging a round of a series of this magnitude is quite high, and we sense the New Zealand economy is not yet at the right level given the impact of cost increases, GST, the earthquakes and so on."
Langham says it is likely another high-profile series will also come to Taupo in the next two years.
"We are well advanced with plans to host a championship which is even more widely recognised," he says.
"Again it's a European series which has not come to this part of the world before, and the organisers are keen to expand their horizons."
Langham says Superleague bosses have given the Taupo circuit a big tick. "The final round of the series makes sense because teams and spectators stay on for a holiday break."
The single-seater Superleague cars are close cousins to F1 cars but use a V12 engine developing 560kW. Drivers can also use a "push-to-pass" button eight times a race, giving them an extra 37kW.
Up to 20 cars and drivers compete for about $5 million in prize money racing under their country's flag, a bit like the old A1GP series.
They race over eight weekends on circuits on four continents.
The qualifying and race format is quite different from any other form of motor racing.
To learn more about the format, visit www.superleagueformula.com
Points so far
1 Australia 158
2 Japan 136
3 Luxembourg 134
4 Netherlands - PSV Eindhoven 130
5 Belgium - RSC Anderlecht 125
6 England 124
7 New Zealand 113
8 Brazil 102