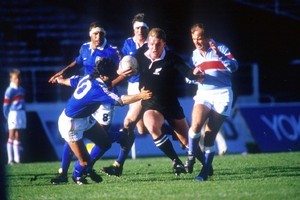 Famous New Zealanders share their greatest All Blacks moments.
Sir Murray Halberg
My enduring memory is not so much the game, but about the people who played it. When Peter Snell and I won our medals at the Rome Olympics in 1960, we got a lot of cables from people back home. One of them that still sticks in my memory was from the All Blacks, who were captained by Wilson Whineray and were touring South Africa at the time. It was a "congratulations and well done" message, and it meant a lot to us. I believe Wilson and I had played cricket with each other once.
As far as the Rugby World Cup goes, straightaway I remember David Kirk holding that trophy aloft at the end of the 1987 tournament. It all started with John Kirwan's amazing try against Italy. It was at a time when we took it all in and, of course, it helped that we won. You couldn't help feeling a bit "oh dear" for Andy Dalton, who could've been holding up the cup if he hadn't been injured. But that's sport isn't it?
There's no doubt in my mind that we'll be holding that trophy up again this time. The All Blacks aren't going to accept defeat - there's a big difference between hoping to win and adopting the attitude of not accepting defeat.
Dean Barker
In 1991, Hamish Pepper and I were travelling around Europe in our yellow Kombi van sailing Lasers. We were family friends of All Blacks doctor David Abercrombie and he got us tickets to watch their quarter-final game against Canada in Lille. It's the only Rugby World Cup game I've been to. We also jumped through his hotel window so we could have a shower. It's hard to find a decent shower when you're living in a Kombi.
My most vivid on-field memory is of John Kirwan scoring his try against Italy in the 1987 World Cup opener. I remember thinking it was pretty cool.
I was 14 and sailing P-class then, but it didn't inspire me to play rugby. I played one season, in my last year at school and I was absolutely rubbish at it. It certainly wasn't going to be my career.
Hamish Carter
I will always remember watching Christian Cullen and Terry Wright running through entire teams effortlessly. I remember talking to David Kirk a few years ago about winning the 1987 Rugby World Cup, and he was telling me how the weekend following the win, he was back out on the field playing a club game in the pouring rain. It was the kind of old-school approach which is indicative of New Zealand sport.
Jenny-May Coffin
My enduring memory of the All Blacks' strength and power is of Jonah Lomu running over the top of Mike Catt in the World Cup semifinal of 1995. It was, and still is, one of the most powerful mom-ents in sport. It signalled the emergence of an absolute superstar - no matter what people think about Jonah, what he achieved on the field was incredible. He epitomised the raw power and strength that is the All Blacks. I can't even tell you where I was when I first saw it, because I've watched it so many times since.
Louisa Wall
My favourite Rugby World Cup moment - other than the one I experienced as a member of the Black Ferns when we won the 1998 inaugural IRB Women's event - was a moment of brilliance by a great New Zealander.
It was the opening match of the inaugural IRB Men's event in 1987, at Eden Park, when John Kirwan got the ball from Grant Fox who got it from David Kirk off the kick-off. JK received inside the 22, scoring the second of his six cup tries, in what are 16 seconds of absolute legend.
I was 15, the entire family were in the lounge, glued to the TV. The way we won playing superb team rugby, where individual brilliance was promoted, and that try. Our All Black team was something as a young New Zealander to be very proud of and this pride endures today.
Ross Taylor
I was only 3 but I can remember Michael Jones scoring his try in the final of the 1987 World Cup at Eden Park.
The whole family was gathered around the TV, and I was probably more interested in the chips and dip, but it's definitely one of my first sporting memories and it's stuck with me.
I was 11 when Jonah scored his four tries in the 1995 World Cup semi, bowling over Mike Catt on the way. Dad would wake me up for those games and I'd have to decide whether I was going to get up or not. I slept in the living room the night of the final because I knew it would be a lot easier to wake up. But that game is definitely not one of my favourite memories.
I'm really looking forward to this year's World Cup, and I've pencilled in a few games, that I'll hopefully get to if our Black Caps training schedule allows.