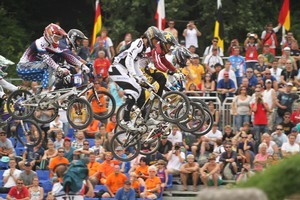 The three Ws of New Zealand's BMX cycling programme have grabbed three medals at the world championships in Denmark.
The 2009 world champion Sarah Walker and Pukekohe teenager Trent Woodcock won silver medals in the elite women and junior men while Marc Willers took out a bronze in the elite men at Copenhagen yesterday.
With Woodcock picking up a silver medal in the first time trial super final, and eight riders qualifying for the later elimination rounds, it provided a significant boost for the fledgling high performance programme under national coach Ken Cools.
For Willers it proved a bitter-sweet experience to pick up his first world championships medal because he had been the dominating figure after winning all three qualifying motos, his quarterfinal and semifinal.
He jumped superbly to be first into the first corner in the final, but over-jumped on the second straight to allow Frenchman Doris Daudet to slide underneath.
Willers struggled to regain speed with defending champion Maris Strombergs edging him for second.
"I basically didn't make a mistake until it really counted," Willers said.
"If there's ever a race not to choke in it was that one. I over-jumped a little bit on the second straight and put a panic rev and started over-jumping everything.
"If I had come out third and finished third I would be satisfied. But I know I had the winning of that final. There's no blame on anyone else but myself and that's the hard thing to swallow right now."
Walker continued her remarkable consistency to win her third silver medal to go with a bronze in 2008 and victory in 2009.
She also impressed out of the gate and her work on the first straightaway where she also led in all motos, and her semifinal, which proved her best effort of the day.
She disposed of defending champion Shanaze Reade for the first time in a head-to-head battle. The Great Britain rider, who had announced her withdrawal to media at the start of the week, instead arrived two days later to race and won the super final time trial.
Drawn next to Walker on the gate in the semifinal, Reade buckled under pressure and dropped off the back of the pack as the New Zealander blasted away to win.
Colombia's Mariana Pajon went neck-to-neck with Walker out of the gate in the final, taking advantage of her inside draw.
Walker challenged hard but had to be content with second.
"Going into this weekend the focus is on London [2012 Olympics] and this is a stepping stone towards that. "I hadn't come in with the best preparation because of an injury and my expectation was to work on my gates and see how they were progressing."
Woodcock, who has been racing professionally in the United States this year, showed the benefit of that competition with a consistently strong effort throughout.
After winning his qualifying group, Woodcock was second behind Ecuador's Alfredo Campo in the quarter-final and semifinal, with the same finishing order in the final.
"I am happy with that. I wanted to stay relaxed and all the training I've done in the past was building up to this," Woodcock said.
"I was just trying to treat the final like every race back home on club night. I am just so rapt right now. It's an another step towards that bigger goal of the Olympics."
Woodcock's podium effort has seen him added to the elite team who head into camp in the Netherlands next week to prepare for next month's Olympic test event in London.
- NZPA