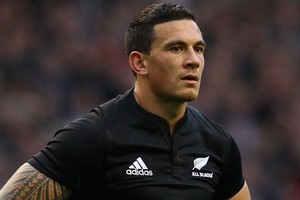 Come on, Sonny Bill - head north and join the extravaganza.
The Blues will be the hottest ticket in the Super 15 next season, now that Piri Weepu and Ma'a Nonu are coming to town. If Sonny Bill Williams joins the circus, the Blues will have the most sensational, blockbusting, razzmatazz backline in the entire history of backlines. (We like to oversell things in Auckland.)
Weepu's move to the Blues, announced at the weekend, caught everyone by surprise, but he'll be welcomed with open arms. Having failed to build a title-challenging team, the region is desperate, and Auckland football fans love flair and class.
You only had to witness the humiliating defeat at the hands of an exceptional Taranaki yesterday to realise how far this city has sunk when it comes to the national sport. One magical year might be the catalyst for a better future, in terms of results, energy and bringing back the crowds.
All that is needed, to complete the coup, is SB Williams. This is the sort of back division the Blues might field next year: Alby Mathewson, Piri Weepu, Rene Ranger, Sonny Bill Williams, Ma'a Nonu, Rudi Wulf, Isaia Toeava. No one will live with that lot. Open the trophy cabinet, lads ... if you can remember where they key is. Even Andy Dalton could sell these stars to the masses.
There will still be the odd selection decision, and Pat Lam might slot rising star Gareth Anscombe in at first five-eighths, allowing Weepu to play his best position, at halfback.
Anscombe is a dead-set star in the making. He would shine among that lot. As for educations, he'd get one to last him a lifetime.
But noises out of the Blues suggest they don't have sufficient faith in the youngster yet. They want someone to mentor Anscombe, although this presumably won't extend to Weepu providing him with his diet and fitness plans.
How does a professional sportsman grow so big so quickly? Seriously. Does Weepu mainline doughnuts? Not to put Weepu down - I revere the bloke and the way he plays. But he gained so much junk in the trunk while injured that you would swear he'd had some work done. Previous to this, it was not actually possible to grow anything that fast outside a petri dish.
Moving on ...
The missing Blues link is Williams, who is tossing up between staying at the Crusaders, or shifting to the Chiefs or Blues.
Sonny, it's an easy choice. You will never get another opportunity like this. Never. Your mantra in life is to have vibrant new experiences and this Blues backline reeks of wild times and a lot of fun. You will inspire a revolution at Eden Park.
Call this serendipity. Call this fate. Call this whatever you like. You'd be mad to let a chance like this in your old hometown go by, Sonny Bill.
MISSING PRIDE
The best that can be said about Saturday night's rugby test, in terms of World Cup indications, is that reading tea leaves will produce equally reliable results. A lot of people are defending, even encouraging, international coaches who pick deliberately substandard teams as part of their World Cup preparations.
It is a very sad day indeed to witness a South African team that bad. Where is their pride?
EVERY TRICK IN THE BOOK
Benji Marshall is the best footballer, union or league, I've seen. Not the best, as in the best. But the best to watch.
The Kiwi captain engineered a stunning Wests Tigers comeback against Manly.
Marshall possesses every trick in the book, and his winning plays included a no-look pass against the Sea Eagles. Manly were in ominous first-half form, yet the Tigers swamped them in the second spell. With Marshall in form, they remain outside title threats.
To think Marshall almost ended up playing rugby in Japan. Whatever the salary-capped NRL club is paying Marshall, it won't be close to what he's really worth to league.
WARRIORS ON FIRE
The Warriors were on fire against the Raiders, and the injury-troubled Manu Vatuvei, a key to their success beyond being playoff also-rans, is getting better week by week. The junior Warriors were also in crunching form and are way too strong for most opponents.
While the Warriors remain a club of potential unfulfilled as yet, the new coach - almost certainly Brian McClennan - will have terrific material to work with.