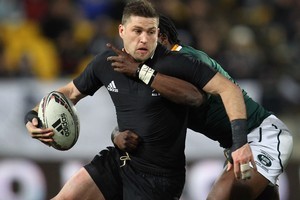 Cory Jane's nightmare season ended last night but his performance will have had the paradoxical effect of both encouraging and worrying the coaches.
Thrown a lifeline, Jane took it and may have clambered aboard the World Cup ship. At his best he is a freakish talent whose past efforts in the All Blacks jersey won him a wild card selection after he failed to deliver anything with the Hurricanes. Until last night he was picked on reputation.
He appeared to have found his swagger of old. Even three weeks ago Jane might not have scored his first try. But his mind is clear now: the sobering prospect of being ditched in World Cup year has brought him back from the brink.
Once he was in space - and it was a considerable act of skill just to find it - there was a touch of apprehension about how he would look to finish. It was his moment - the eyes of the rugby world were upon him and no matter what else what happened in the game, he was going to be judged by how he handled the kill.
There was never any doubt within him. Jane saw Morne Steyn lumbering towards him, knew he was a bit ponderous and skipped past on the outside. It was classic Jane - making the phenomenally difficult look phenomenally easy.
"I thought both Cory Jane and Zac Guildford were outstanding," said coach Graham Henry. "They were exceptional in all aspects - in dealing with the high ball, on defence, chiming in on the opposite wing and looking for those inside balls.
"They both scored two tries and you can't ask for any more than that."
The problem, one Henry says he will embrace, is that it is going to be tricky when the time comes to cull the extras. Ben Smith and Sitiveni Sivivatu were sharp against Fiji and now Guildford and Jane have put their hands up. Isaia Toeava and Israel Dagg are close to returning and Mils Muliaina was closer to top form than he's been all year.
They can't all go to the World Cup. "That's a good challenge for us," says Henry. "We have maybe nine guys for five positions at wing/fullback so it is going to be an important decision for us and very difficult for the guys who miss out."
Hosea Gear may be fit to play Australia and Toeava is on the bench for Auckland today, but will presumably need a few more games before he can be considered for test duty.
"I think there is a pattern developing," said assistant coach Wayne Smith. "The players who are under the most pressure are playing great rugby. Ben Smith and Siti [Sivivatu] couldn't have played any better than they did last week."