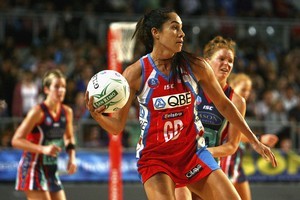 She has been one of our most feared rivals - now Mo'onia Gerrard could be set to play for a New Zealand franchise in the ANZ Championship.
Playing for Australia, Gerrard has been a constant thorn in the side of the Silver Ferns and her physical, uncompromising approach has not won her many fans on this side of the Tasman. But there is no doubting her ability and the way she took Temepara George out of the game in the latter stages of the Singapore final was a key to blunting the Ferns' offensive threat.
The 30-year-old has yet to agree terms with the Swifts, and confirmed that she was assessing her options - which include switching countries.
"I've always been interested in playing in New Zealand from day dot and it still interests me to have a go in the New Zealand style," Gerrard told the Herald on Sunday. "For me, the whole Polynesian side of things would be fascinating and it would be cool to get amongst it and see how it goes."
Three New Zealand franchises - the Mystics, Magic and Steel - have yet to fill their allocated import spot and it would appear that the Steel are the most likely destination should Gerrard decide to cross the Tasman.
Apart from the fact that they are financially well-resourced, Gerrard also has a strong bond with the Steel's Australian co-coach Natalie Avellino.
"With Natalie there I am definitely interested," says Gerrard. "I'm sure she will be good as a coach at the Steel - especially in terms of player welfare. She is always there for players."
Avellino and Gerrard played together at the Sydney Sandpipers in the Commonwealth Bank Trophy during the early 2000s, with the veteran leaving a lasting impression on the youngster.
"She was like my mother in netball when I was coming through," recalls Gerrard. "She was an older player in the group and I always looked up to her. She has definitely been one of the influences in my netball life and I have always had that closeness and bond with her since then. She looked after me - I was the only Islander coming through and she seemed to get that whole cultural background as well."
Gerrard confirmed she is still in talks with the Swifts, but it seems unlikely she will remain in Sydney. The departure of longtime coach Julie Fitzgerald seems to have caused a split in the camp, and several players are considering their futures.
Life in the deep South would also be a significant lifestyle switch for Gerrard, though she is confident she could handle the colder temperatures.
"If Natasha Chockljat could handle it, I could handle it," says Gerrard. "I have talked to her plenty of times during the season and she definitely has warm blood. If she can handle it, I could."
For the Steel, Gerrard would hold definite appeal. She would be a positive influence in the dressing room, and bring a real winner's mentality and never say die attitude. And of all the Australians, her style would perhaps fit the New Zealand model quite well. She is unconventional and unpredictable, unlike some of her team-mates, who are more formulaic in their play.
The main issue would be how she would handle being in a team that on paper anyway, is set to struggle in 2012, after being accustomed to success with the Thunderbirds, Swifts and Diamonds.
It is unlikely she would go to the Vixens, who tend to prefer to recruit from within Victoria; the Firebirds seem an equally remote possibility. Gerrard won't return to the Thunderbirds, which leaves the Fever - with new coach Norma Plummer - as the most realistic option in Australia.
"She knows me and she knows how to push me and get the best out of me," says Gerrard of Plummer. "She will have a massive impact in Perth and she will love it."
Steel CEO Julie Paterson was reluctant to mention specific names, but confirmed they were talking to several Australians, including current Diamonds players. She admits that the cost of a top line Australian would probably run into six figures (including relocation and other costs) but was confident it could fit into their budget.
Paterson is under increasing pressure to make signings, having only recruited three players (Wendy Frew, Hayley Saunders and Jodi Brown) for 2012. The loss of Paula Griffin to the Pulse on Friday was a blow and Paterson's task is becoming an increasingly complicated jigsaw. Paterson also said the franchise were still discussing possibilities with last season's import, Chockjat.
The Magic have tied up eight players but have yet to sign an import. CEO Sheryl Dawson confirmed they were in discussions with several overseas players, and wing defence or wing attack seem to be the obvious gaps in their roster.
Meanwhile the Mystics, having confirmed their big five, are looking to England to fill their import slot.