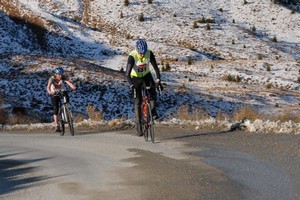 It is fair to say the North Face Peak to Peak is unlike any other event in New Zealand; the mountain-to-mountain multisport event has athletes race from the top of The Remarkables to Coronet Peak.
The 44km race starts at the top of The Remarkables with a 2km ski or snowboard on The Homeward Bound run, finishing at the skifield access road.
A 17km mountain bike ride down the high altitude road finishes at Frankton Beach and is followed by a 7km paddle to Queenstown Bay. From the Bay it is a 9km run to the foot of Coronet Peak and a 9km cycle ride up the access road to finish at the base buildings.
If you think that all sounds a bit mad then you are not alone. The champions from last year, Adam Milne and Simone Maier, who are back to defend their titles next Saturday, agree.
"I know I'm mad. I mean who in their right mind puts on lycra and runs down a snow-covered mountain in ski boots?" said 23-year-old Milne, who is an aircraft maintenance engineer for Air New Zealand.
"I think we are all a bit mad in different ways," added Maier. "I love my madness. It would be horrible if we all did the same thing and it's competing in events like this that make me different to other athletes or people too."
Milne (Christchurch) won the open men's race last year in a cliffhanger, pipping Gavin Mason (Wanaka) across the line by two minutes in 2h 16m 14s.
"It was a great feeling just knowing that my name will be next to the likes of Steve Gurney, Richard Ussher and Dougal Allen on the prestigious trophy. These three elite athletes have gone on to achieve some amazing things and I hope to do the same one day."
But he feels some pressure from locals like Allen and Mason "who are lucky enough to have the course in their backyard and have also dominated the race for the past couple of years".
The Peak to Peak started 18 years ago with only a few people competing; next week more than 400 athletes will front with 167 kayaks on the water in the middle of winter.
Last year's winner of the two-day Speight's Coast to Coast said there were a number of factors that made the Peak to Peak unique.
"There aren't too many races around the world that start on one mountain top and finishes on another with five different types of sport involved. You don't have to be a good runner but could be a gun skier so you'd be in with a shot."
Men and women compete in open and veteran individual classes.
The teams' section includes male, female, mixed, business house, veteran and school squads.
"While there are a number of serious athletes competing in this event it is also very much a race for people starting out in multisport," said race director Geoff Hunt.
"For business teams or teams of work colleagues or friends it is a great opportunity for team-building and developing team spirit."
Competitors will be aiming to break the record of 2h 2m 51s clocked last year by Queenstown's Fergburger team; several hardcore teams will be aiming to break the two-hour mark.
"It has always been a target for some of the top athletes and last year's race which saw Fergburger just pip the experienced defending open champion team Outside Sports by two minutes has intensified the [race] to go under two hours.
"There are a number of school teams competing which is good to see as we are keen to foster the younger, up and coming multisporters who are the future of the sport."
Milne and Maier had some advice for newcomers.
"Get out and enjoy it," said Milne. "If you don't think you could do the whole thing by yourself then team up with a friend or four.
"The race is fun and the atmosphere is great. I highly recommend it to anyone that loves a challenge or just wants to try something new. Like any race or adventure it's a great feeling to have completed it."
"Go out there and try to achieve your own goal; whatever it is, don't blow yourself up on the first few legs," said Maier.
"There is still a not-so-easy run and the uphill bike at the end, so save some energy for that. Don't have a time in your head if it's your first Peak to Peak, go out there and have fun and I promise you will be back for next year."
Milne said: "It's a great feeling knowing that you've crossed snow-covered mountains, steep gravel and tarmac skifield access roads, state highways and tarmac rural roads, QLDC Reserve, public walking or cycling tracks and Lake Wakatipu.
"A refreshing beer has never tasted better."