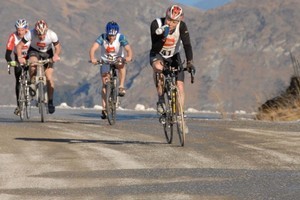 Simone Maier comfortably won the women's open of the Peak to Peak last year but she crossed the finish line at Coronet Peak despondent and bemused.
The Wanaka resident, who came to New Zealand in 2007 from Germany, claimed the women's open as a first time competitor in a time of 2.37.58 but was oblivious to her win over almost 20 minutes from Ailsa Rollinson (Wanaka) in 2.55.20.
"I didn't really know that I had won until a newspaper reporter came and said I had won the race, I said did I?" remembered the 31-year-old baker. "I had no idea because my support crew kept on telling me there was a few girls ahead of me but I never saw them [laughs]. It was really funny. Well it was a good motivation to push myself.
"It was [a] great feeling to win the Peak to Peak especially because I had to borrow pretty much everything to be able and do the race."
Maier is relaxed about the Peak to Peak this year because her focus and training has been very specific for the Kona Mawson MTB Marathon 367km Race in Australia on August 20.
"I haven't done much other things than endurance biking since I got back from Challenge in Cairns [June 5] but I'm really excited to do the Peak to Peak again with all my training buddies."
She expects tough competition from good friend and 2009 winner Joanna Williams, Rollinson and Floorje Draisma.
"I think this one is going to be a great race and I believe there are some other great unknown females out there who might show up and give me and Jo a great competition.
"It sounds amazing, Peak to Peak, and if you think about it racing from one skifield to the other skifield that sounds crazy. It's just like the Coast to Coast but a lot smaller, just like a warm-up for people who are thinking of doing the Coast to Coast one day.
"It is a fantastic event to do and has a great atmosphere and you never know what to expect on race day. I think that's special too."