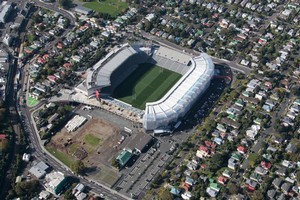 Rugby traditionalists tut-tutting over a string of perceived insults culminating in the All Blacks' coloured boots finally have reason to celebrate.
Returning in all its glory is the Scotsman's grandstand, that stalwart of New Zealand rugby grounds, which had its heyday in the 1950s and 1960s and was last pressed into service at Eden Park for the first World Cup final, in 1987.
Not that this year's model will be the rickety wooden construction that adorned properties overlooking grounds at that time. Modern health and safety regulations would have something to say about that.
Indeed, it is probably even tempting fate in this day and age to suggest this cheap viewing option has something to do with the Scottish character. Be that as it may, the temporary East Stands erected at Eden Park will strongly echo the old Scotsman's grandstands in semblance and spirit.
Entrance to them will be separate from Eden Park's main concourse, and those seated there will not be able to use the stadium's facilities.
Portaloos, food outlets and merchandise stalls will be provided for them on the roadway and footpath of Cricket Ave. Authorities blame this on the stadium's inability to cope with the extra crowds expected for the World Cup.
Some will wonder how this could be when $256 million was spent on upgrading Eden Park for this very occasion. They might also ponder how spectators could be treated this way in 2011. Others will not mind. They will just be happy to see a grand tradition back from the dead.