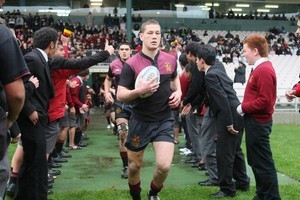 It's April 29, 2006 and Hamilton Boys' High are nearing the end of their pre-season boot camp week on the Sunshine Coast, and today they are at the home of the best schoolboy team in Queensland. In the Anglican Church Grammar School team this year are a couple of imports making names for themselves at schoolboy level.
David Pocock, from Zimbabwe, has been in Australia four years, during which time he has developed into a fearless loose-forward.
The team's undoubted star, though, is the extravagantly gifted first five-eighths Quade Cooper, who left Tokoroa for Brisbane aged 13. The boy whose job it is to stop Cooper today is 17-year-old midfield back Jackson Willison, a small-town kid from Otorohonga playing out of position at 10. Outside Willison in the Hamilton backline is Quade Cooper's first cousin, Sean Maitland. According to Maitland, Quade is big time.
The low hum of cicadas gets overtaken as the teams kick off by a lot of noise from a big partisan crowd, and it's not long before Cooper is into his work, gliding up and down the gainline and standing passes up for his runners to accelerate on to.
The Hamilton defence holds strong though, and so when "Churchie" have a lineout on their left-hand 22 in the 10th minute, their young playmaker looks to make his mark. It's clean ball off the top and the halfback sends a pass fizzing out in front of Cooper, who collects, scans for an instant, and then plants his right foot and explodes to his left out of a massive step that he hopes will take him sailing up through the gainline.
Unfortunately for Cooper, the gainline is Willison's right shoulder and as it connects with its target it sends Cooper twirling back in the opposite direction like a revolving door.
When he eventually hits the ground Willison is over him like a burglar over a laptop, and before it occurs to Cooper to hold on and concede a penalty (place kicking is wildly inconsistent at schoolboy level) the ball is stripped and released to the Hamilton backline. The Churchie backs are in no position to defend, and they watch as Hamilton Boys' put it through the hands and go over in the opposite corner.
Half an hour in and the home team are finding it hard to live with the close quarters work of Hamilton Boys', who are dominating possession and recycling furiously as they move up the middle of the field. Hamilton's backs edge forward on the balls of their feet, watching.
As the tourists' maul approaches the Churchie 22 it folds over on itself and the ball spits out the back, where it gets fired out left into the first five channel. It's in the air for a while before Willison, steaming back on the angle, hits it, transfers it from his left hand to his right, and then puts the butt of his left palm through the chest of Cooper, who claws the air a couple of times and falls away.
The Churchie fullback comes across but is too late with his attempts to stop Willison going in under the posts. 12-0, and suddenly the cicadas are deafening ...
Five years later Willison, sitting in a Hamilton cafe, is hardly blowing his own trumpet about the day he cleaned up the Wallaby pivot (the final score was 24-0). "I'd say it was more the personnel around me. It was just a good day I suppose, the boys were really on song and came away with a win."
Willison is still waiting his turn. While Cooper was stepping straight out of high school into the Queensland Reds Super rugby squad, and making his debut for Australia in 2008 aged 20, Willison was working his way through the Waikato provincial system before becoming a Chief in 2009.
He's now in his third season of Super rugby. Ahead of him this week in the Chiefs midfield: Tana Umaga and Richard Kahui.
"It goes back to the depth we have here in New Zealand. There's definitely no shortcuts. There's a bit of bemusement about some of the boys who are playing for the Wallabies, but I still think they're pretty skilful and they were probably going to make it, they just made it a bit quicker."
If there's a long hard road ahead of him, at least he knows his time at Hamilton Boys has prepared him for it.
"The hard work, the responsibility, a lot of that started for me at Hamilton. That's the way Nige likes to roll."
"Nige" is Nigel Hotham, deputy headmaster and 1st XV coach at what few would argue has been the school to beat in NZ Schools Rugby for the last four years. Hamilton Boys were national schoolboy champions in 2008 and 2009, and in both of those years went on to claim the title of world champions at the Sanix Invitational in Japan.
Hotham, whose upright bearing and penetrating blue eyes give him an almost regal air, tells me he noticed something at these international tournaments.
"New Zealand is unique, because school sport here is dominated by state schools, not private schools.
"We have a really good balance, with different nationalities, different socio-economic groups. It's an uncanny mix of different cultures that is really positive."
Hotham played a seminal role in the development of Pacific Island talent coming out of West Auckland when he worked under Graham Henry at Kelston Boys High in the late nineties.
Players he coached, like Mils Muliaina, Sam Tuitupou, Mose Tuiali'i, Anthony Tuituvake and Steven Bates, went on to become All Blacks.
"At Kelston you had these amazingly gifted athletes, and you had this amazing growth in teenage years - the size of the Polynesian kids you deal with is pretty special. But their commitment is drawn between the school, the church and the family.
"There's always a reason to be going to the airport to pick up an aunty, so you've got those issues. When I came to Hamilton in 2003 the clientele was very different. You don't have the same talent pool, you don't have the same size or ability, but you have boys that are willing to do anything to be in the team."
In the way that Mt Albert Grammar took the model of their soccer academy and applied it to rugby, so Hotham looked to the all-conquering Hamilton Boys' rowing team as inspiration and blueprint for the 1st XV programme he wanted to build.
"With the lack of size of our rugby players, they had to be the hardest working team rather than the most talented team. We looked at rowing and realised how hard they were working, how committed they were to their team, and so we changed the rugby programme.
"Regular strength and conditioning, training before school and after school, boot camps. The culture had to be one of total commitment. The first year we got to the stage where we were only middle of the road and some of the boys were saying 'how can we play when we're working this hard?' but the next year, as it becomes the norm, people just sign up to it. Social life is minimal, we travel a lot, but boys love it. It's almost life-changing when they commit to something that heavily."
I get a tour of the facilities at Hamilton Boys' from Todd Miller, the former All Black who is now head of health and physical education. A new gym was completed last year and the whole sports block feels pristine and geared for high-achievement. For him, though, it's all about the coaching.
"What I noticed when I came here is that under Nigel the 1st XV train like a professional group, in terms of the number of trainings, the off the field stuff, the strength and fitness. My first observation when I arrived was 'they train like I did'."
February 16, 2011, 6.25am
I'm running late for my appointment with Hotham and his wider training squad. I pull into the Hamilton Boys' High carpark, grab my running shoes and hurry round to the meeting point in front of the pavilion. The boys are already in the distance up ahead.
My watch says 6:31. I catch up with Nigel, bringing up the rear of the group, and before long we're crossing over into the broad expanse of dark green that makes up the University of Waikato campus. The sky is red and etched with the black outlines of electricity pylons stretching out into the farmland east of the city.
We gather at the foot of one of them. Only an occasional murmur breaks the silence of the boys as they stretch and prepare, before Nigel and his three assistants split the group into divisions of tight forwards, loose forwards, inside backs and outside backs.
I join the inside backs and jog over with them until we are all at the bottom of a gentle rise. At the start of my third hill sprint I feel my calf muscle spasm, and hobble away sheepishly.
When I reach the edge of the campus I look back at the distant figures continuing their training session. The outside backs are doing 100-metre sprints, and a long-limbed dark-skinned boy is tearing up the ground in front of him like an Arabian thoroughbred. He's out in front of the others by 3 or 4 metres, and has genuine pace.
He'll need more than that.
As Hotham says: "In New Zealand there is a hell of a lot of cream if you want to rise to the top."
Roll of honour
Hamilton Boys' High School All Blacks, in chronological order:
1 Bert Cooke, 1924-30. Tests 8, matches 36.
2 Jack Tuck, 1929. Tests 3, matches 3.
3 Ron Hemi, 1953-60. Tests 16, matches 30.
4 Kevin Greene, 1976-77. Matches 8.
5 Lachlan Cameron, 1979-81. Tests 5, matches 12.
6 Warren Gatland, 1988-91. Matches 17.
7 Scott McLeod, 1996-98. Tests 10, matches 7.
8 Aled de Malmanche, 2009-10. Tests 5.
* Adrian Hyland is a freelance writer who divides his time between Britain and his native New Zealand.