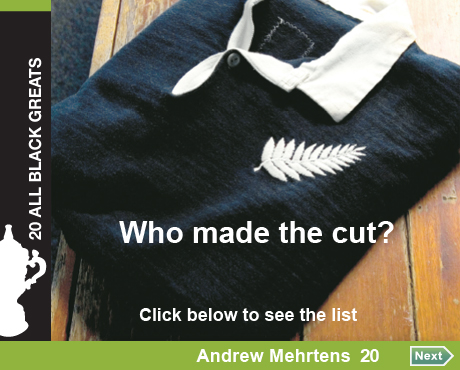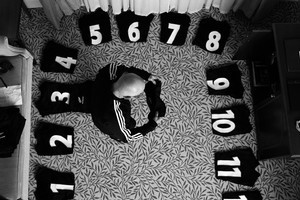 It was very tough, but we wanted world-beaters who dominated their eras, writes Wynne Gray.
Television was still in the distance as New Zealand prepared for a three-month invasion from the country's greatest rugby rivals.
The national cricket side had claimed their first test victory, now it was time for a first series scalp against the Springboks.
It was 1956 and New Zealand readied for the first great tour after World War II. The national sport was about to be tested against the traditional enemy.
New Zealand's most celebrated player, Colin Meads, was on the cusp of international selection - so it seemed a good starting point to sift the 20 greatest All Blacks.
That cutoff date eliminates legends such as George Nepia, the Nicolls and Brownlie brothers, Bert Cooke, Billy Wallace, J.B. Smith and many more. But it did not make the selection any easier.
Those immersed in that historic 1956 season recall how New Zealand seemed to be entirely concentrated on the Springbok visit. Little else round the world seemed to concern us.
There was no need for any of today's contrived sporting hype.
We've heard those who saw the series deliver rich tales of Kevin Skinner's frontrow ferocity and D.B. Clarke's extraordinary goalkicking.
It was a seminal time in New Zealand sporting history, a period ended by Peter Jones' pricelessly natural "I'm absolutely buggered" to a radio audience after the fourth test.
Famous All Black faces these days are Richie McCaw, Daniel Carter, Mils Muliaina, Keven Mealamu and Sonny Bill Williams. Kids and adults will rate them all up there with their rugby gods, and so they should.
Youngsters today may have little knowledge of those who wore the famous black garb in the 50s, 60s or 70s.
But a group of us were tasked with drawing up a list of 20 All Blacks of distinction since 1956.
The top six were unanimous picks from the panel, the only mild discussion was about their order. After that it became tough, very tough.
It is pointless trying to compare All Blacks from 1956 with those of 2011. The game has changed markedly, the rules have altered, patterns have changed, the sport is professional, not amateur.
So we wanted those All Blacks who dominated their eras, who were world-beaters in teams which regularly beat all comers.
We are talking small differences here - personal favourites, hunches, grudges, more backs than forwards, flash Harrys against the workers.
All who have worn the black jersey are part of the proud heritage, an All Black family who have created an unrivalled test-match winning percentage of 87 per cent.
When the arguments abated and the debate withered, we were left with nine forwards and 11 backs. There had been no brief to cover every position, and we ended up without someone to fill prop and lock. We had stacks of loosies and could have had more.
How on earth do you rate Meads against Mehrtens, the top and bottom of our list, a hard-edged, gnarly lock against a chirpy five-eighths?
Interestingly, they were two men who eventually hit it off when they were thrown together as manager and player on All Black tours in the 90s.
The whips cracked, though. Make up your minds, we were told, come up with the names. We did. Now it's your turn.
Pick your top 20 greatest All Blacks of all time.
Next Monday nzherald.co.nz will compare our experts' list with the public's.