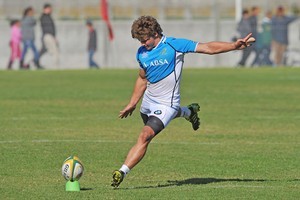 Fresh-faced Patrick Lambie will make his first Springbok start at fullback tomorrow against the All Blacks.
He replaces the equally versatile Gio Aplon, who suffered back and shoulder injuries in last week's heavy loss to the Wallabies and has flown home with injured lock Flip van der Merwe.
Coach Peter de Villiers has made four changes. Lambie is fullback, Adi Jacobs comes in at centre with Juan de Jongh shifting in a place replacing Wynand Olivier.
In the pack Gerhard Mostert will make his debut at lock and Danie Rossouw shifts to No 8, allowing Jean Deysel to come into the team on the flank.
Goalkicking five-eighths Morne Steyn retains his place, probably because Lambie was needed elsewhere, but Steyn's effectiveness deep in the pocket will come under more scrutiny.
Lambie, Francois Steyn, Butch James, Peter Grant and perhaps Ruan Pienaar all offer alternative styles as five-eighths and may get a chance later in the Tri-Nations.
De Villiers was coy about Steyn and others' chances for the World Cup after they were belted last week by the Wallabies.
Steyn's greatest attribute, said his coach, was the way he organised the Springboks. He was very useful in settling on game plans and tactics.
"He is an open-headed youngster who took quickly to the seniorship of the team.
"All of us go through patches in our life, especially players, and then they need people to back them. Some tough decisions have to be made before the World Cup and for him and every other player on the park on Saturday it might be their last chance or the only chance and we hope he gets back the form which made him so invincible in 2009."
There were Currie Cup matches before the World Cup where a number of players would be scrutinised. The only standard for selection was performance.
There were a lot of opportunities for players in this test.
"I don't have any favourites, I don't have any friends and don't want friends because they tend to let you down. So do players.
"But if they understand they have a role to play, they will bring hope for the future of their country and that they shouldn't be at home, they should be on the park."
In an ideal world, de Villiers said, coaches did not want these tests before the World Cup because they could be detrimental to the players.
But it was also a chance for players to come right and demand tournament inclusion.
"Either way it is more good than bad for us."