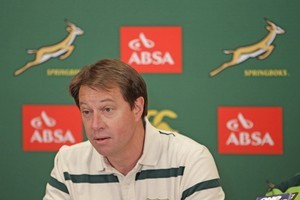 Sometimes explanations get lost in translation.
However, South African Rugby chief executive Jurie Roux made a strong, impassioned defence yesterday about the reasons for the 21 Springboks left at home.
Pictures have been painted of that group training in secret at Rustenburg under the control of assistant coach Rassie Erasmus and kicking technician Percy Montgomery.
But Roux said there was confusion about the gathering. The Springboks were a professional group working in a professional environment.
The World Cup was just over a month away and injured players needed to rehabilitate with professional people in a professional environment.
He had spoken to Sanzaar chief executive Greg Peters often to explain the situation. All 21 injured players were not at Rustenburg.
"Guys, it is very simple," Roux said.
"It is a unique thing to me that people are worried about this at all. I run a multi-million rand corporation where the biggest assets are my players. They are injured.
"I need to do something to get them ready for the World Cup so I need to get them in an environment to do what we are doing."
Roux said it was no different from the Wallabies using oxygen training to help Drew Mitchell recover from a broken ankle.
"What do we do with an injured player?" Roux asked. "We don't send him to Bali or Mauritius for a holiday, you put him in a high performance centre and get the best doctor you can find and put him on a rehabilitation programme."
Roux said he could not understand the conspiracy theories or confusion. He wondered what more SARU could do.
"I am denying there is a secret training camp. I have a number of players in a single high performance entity, where they can rehabilitate."