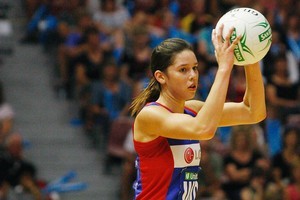 The Northern Mystics may have one more Silver Fern on their roster in 2012 than they bargained for when they signed Kayla Cullen a couple of weeks back.
The Auckland side have re-signed rising star Cullen for a third season in the transtasman league.
After a breakthrough season in this year's competition, the 19-year-old has long been tipped to be named in the 2011-12 Silver Ferns squad due to be named on Monday.
But with national captain Casey Williams sidelined for the rest of the season, to have ankle surgery and allow her body to recover from what has been a demanding two years of netball, Cullen's promotion to the test side may be sooner than expected.
Mystics coach Debbie Fuller would like to see the versatile youngster named in the team to face England and Australia later this year.
Fuller believes Cullen would "breathe fresh life" into the Ferns team still hurting from an overtime defeat to Australia in the world championship final.
"Depending on who is out and who is taking a rest, I would hope she would be selected," said Fuller.
"Post-world champs, I think, it is a good opportunity for the coaches to run the young players so you can see what they've got."
Fuller said that regardless of whether Cullen makes her test debut this year, the athletic teen will be a key member of the Mystics line-up next season.
Cullen, who was named the best young player in the 2011 competition after making the switch from the shooting circle to the defensive end, is expected to continue to cover the wing defence-goal defence slide.
But Fuller also hinted the multi-talented star may be used as back-up at centre - something that doesn't faze Cullen in the slightest.
"I'd really enjoy the new challenge, I think, if I was given a go there. I'm up for a new position again. First season, I was a shooter; second season, defence; third season, midcourter would be good," she said.
Cullen had been on the radar of other New Zealand franchises but she said she never entertained any offers from other teams.
Cullen joins Temepara George, Anna Scarlett, Cathrine Latu and Maria Tutaia on the Mystics roster for 2012.
Also thought to be in the mix are sisters Rachel and Grace Rasmussen, the latter of whom is recovering from a knee reconstruction. Silver Fern Joline Henry is still to commit for next year. Australian veteran Megan Dehn is not expected to return.