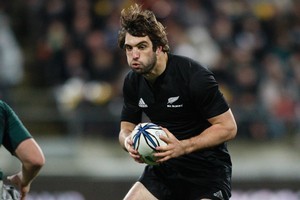 National coach Graham Henry thought the All Blacks delivered about 50 per cent output in Dunedin. Tomorrow, he wants about 65 to 70 per cent.
The Springboks would bring a different style of opposition in Wellington, he said, and would be more awkward to break down than Fiji.
But that would be ideal as the All Blacks began the defence of their Tri-Nations title and the squeeze to the World Cup campaign narrowed.
The All Black coaches had pared team needs, plans and strategies back to basics and had been working on a pressure-cooker learning operation.
There had not been much time to assemble, break down entrenched ideas and graft new concepts to the players' skills.
But the aims were to build in major areas and put some polish this week on the set-piece and breakdown in attack and defence.
"It is a matter of trying to add a bit of sophistication to what we are doing," Henry said.
"Often you don't know what you need to work on until you have a bit of a game and we've done that now."
The trick was starting again, taking it all logically as the All Black coaches introduced some of their new concepts to their squad.
Four new players - Cory Jane, Daniel Carter, Jerome Kaino and Sam Whitelock - are in the starting lineup tomorrow, giving most of those who started at Carisbrook another chance to build on that showing.
Henry said it was obvious what utility wing Jane had to do to get his game going again and to press for continued selection.
He had been a very effective test rugby player who had a disappointing Super 15 season because of injury, form and little continuity. But he had trained well this week and had recovered from the serious dislocation to the ring finger on his left hand.
"We know what he has done before, we'd like to see him nail it," said Henry.
"He knows he is not going to get too many opportunities to do that and this is a big one for him."
Henry said his All Black coaching template was to create a strong base structure so the side could deliver variety.
"I am not a great believer that structure decreases flair," he said. "I think structure increases the ability to express yourself.
"We are trying to develop a game which is pliable.
"It is set-piece game, breakdown game.
"Then you can vary how you try and break the opposition down from there with the individuals in your group."
Henry did not like naming his team too early in the week as that gave the opposition the chance to alter their plans.
He had changed strategies after seeing the rival selections.
If, for example, the opposition picked a lock on the blindside, that might encourage some plays to test his dexterity or exploit his positioning on defence.