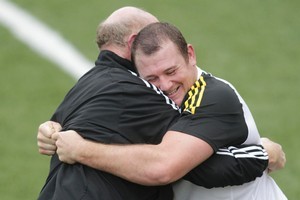 The All Blacks' premier loosehead prop, Tony Woodcock, looks set for a rugby comeback.
If the 74-test veteran gets a clearance, he is expected to kit up again for ITM Cup action in Palmerston North next Tuesday when North Harbour play Manawatu.
Woodcock has not played for three months since damaging ligaments in his foot during the Super 15.
However if his provincial comeback is successful he may travel on the All Blacks' trip to South Africa for their solitary Tri-Nations test there against the Springboks.
Picking that squad will be awkward as the All Blacks are moving around the country with a squad of 34 players while Sanzar rules allow them only 26 for the Tri-Nations travel.
That test in Port Elizabeth and one the following week against the Wallabies in Brisbane will complete the All Blacks' programme before the World Cup.
Trimming the All Black group will be an awkward assignment especially if they are trying to "carry" a couple of near-fit players.
Others who fit into that category are Israel Dagg, Isaia Toeava and Richard Kahui.
"Tony is going to play on Tuesday for Harbour, that is the plan ... He is travelling pretty good and ready to go," assistant coach Steve Hansen said. "If he comes through those games he is more than likely to come to South Africa with us, that's been the plan from day one and he is ahead of schedule."
He had built slowly into his comeback, running then doing parts of training and this week he had shown he was ready to resume rugby fulltime.
Toeava would play half a game for Auckland this week but Dagg was not quite ready, though he might still tour with the All Blacks.
Many of the players were showing strong form and that would make selection even more awkward. But that was a good problem.
Hansen wanted as many as 40 guys pushing hard to make the final cut for the ultimate tournament of the year at the World Cup.
He detected those on fatigue leave were getting twitchy about playing again, they were nearly ready and would be primed for the Wallabies next week in Auckland.
"You can just see it in their demeanour when they came back in this week that there was a bounce in their step again. They are starting to enjoy life as opposed to rugby being a bit of a chore. For us that is the ultimate, that is what we want.
"Things will come back to normal next week and we will have a full squad to pick from."
The season had been hectic and very physical and Hansen felt the All Blacks had no other choice if they wanted their squad in the best shape they could be for the World Cup.
"It has not been a dictatorship, it has been a joint devised plan and we have sat down with each individual and worked out what is best for them."
International coaches had been saying for some time that the seasons were too long but the International Rugby Board had to make the changes, said Hansen.
They had to organise the global framework as neither hemisphere wanted to concede space or matches.
"But it is coming to a time when if they don't do something about it the game is going to suffer."
Next year's schedule was "unbelievable" and it was getting close to breaking point.
The Springboks had done what suited them and were looking at what was best for their World Cup defence.