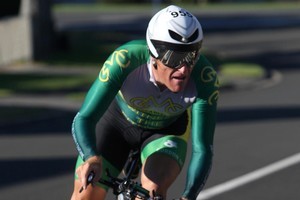 New Zealand cyclist Gordon McCauley is about to take the first step towards his ultimate goal of competing at Ironman New Zealand next year.
The 39-year-old multiple national champion, now retired from professional cycling, will line up at the national duathlon championships on August 14 in Taupo.
The race consists of a 10km run, 40km bike and 5km run and McCauley, 39, said he was targeting a top 10 finish.
While the Commonwealth Games individual time trial bronze medallist is expected to easily record the fastest bike split of the day, McCauley said the run would be a challenge.
The race is his first multisport hit-out of the year but he is also scheduled to start the Taupo Half Ironman and Port of Tauranga Half leading up to Ironman New Zealand in March.
"I'm hoping to run around 37 or 38 minutes for the first run, and then hope I can do around a 56-minute ride," he said. "Normally I'd ride 51 or 52 minutes over 40km but the run's gonna take a lot out of me."
McCauley's main motivation for Ironman New Zealand is to break the record for fastest time on the 180km bike course, currently held by late American cyclist Steve Larsen at 4hr 26min 45sec.
"At Ironman, the goal is to try and set the bike record. But the guy that set the bike record there was a great cyclist - he was a Tour de France cyclist, and a lot better than me.
"If after the first lap it's not on, I'll back off and try and do a good run. If I can have a nudge, I'd like to think I can still run a four-hour marathon."
McCauley has been juggling coaching and work commitments with serious swim training five days a week.
He is also out running but finds the impact tough.

"My ankles get really sore. I literally can only run twice a week. I can't run any more than that because my ankles won't deal with it."
- NZPA