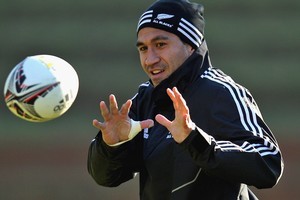 The All Blacks may have ditched with tradition to don coloured boots rather than the tried and tested black numbers but don't expect them to stray far from the norm when their new rugby jersey is unveiled on Saturday night.
The new look strip has been a closely-guarded secret ahead of its debut against the Springboks in a Tri-Nations match in Wellington despite a teasing advertising campaign ahead of its launch.
Much was made of some of the All Blacks wearing red, yellow or white boots against Fiji in their 60-14 win in Dunedin, but despite a possible return of a white collar, the jersey that is revered by so many will not undergo any dramatic change. To do so would have been seen by some as akin to sacrilege.
Veteran fullback Mils Muliaina, who will play his 96th test if selected for the match, was confident that the New Zealand public would take to the new strip but he was more concerned with getting a result.
"You certainly hope that the performance you put out on the track will attract more attention than what we're wearing, but hey, it is the All Black jersey.
"There's not much change at all. There's still the blackness in it, the silver fern's still on it."
But the new design does have one drawback - it is so skin-tight it leaves nowhere to hide excess body fat.
"That's why we've been training so hard for the last three weeks, trying to get the skin folds down," Muliaina quipped.
"It is a lot tighter and hopefully we get that extra percentage out that you want on the track in terms of performance."
As All Blacks backs coach Wayne Smith remarked when asked about the kaleidoscopic boots: "It's what you do in them, not what they look like," he said.
- NZPA